The Lotus Seven Series 4 Sports Car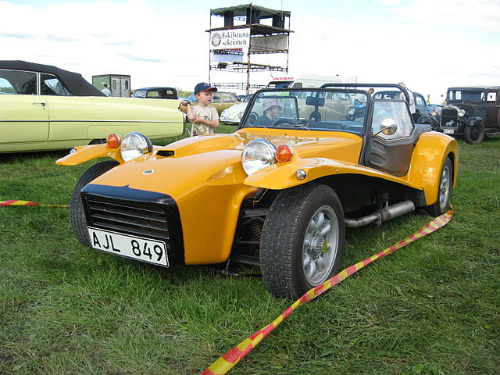 Lotus Seven Series 4
                                           from Classic to Modern
     The Lotus Seven Series 3 sports car was discontinued in 1970, after a production run of two years, in which a total of 350 units were built.
     By 1970, the market for the traditional club road/racer was on the decline, and it was therefore decided to concentrate on the market segment associated with the more upwardly mobile, and 70's lifestyle customer.
     Accordingly, in March 1970, the Seven Series 4 was launched.
     Apart from retaining the concept of minimum weight and comfort, the new car was very different from its three predecessors.     
     Lotus fundamentally altered the shape of the car by making it more square.
     The steel space frame and aluminium body were replaced by a chassis with a steel backbone, as used in the Lotus Elan, and a fibreglass body shell.
     The lift off bonnet was now replaced with one that was hinged.
     The previously spartan interior was revised to create a more appealing aura, such as the inclusion of certain luxuries, like a heater.
     Many existing customers were unhappy with the new image, and craved for the original concept.
     However, the trade press reviewed the car favourably, and regarded it as a distinct improvement.     
     Furthermore, sales actually increased, probably reflecting the changing market profile.
     The range of engines available were as per the Series 3, and performance of the Series 4 was only marginally reduced due to the additional weight.
     However, increased sales activity was insufficient to cover the additional development costs incurred in the Series 4 changes.
     The future of the Lotus Seven looked bleak.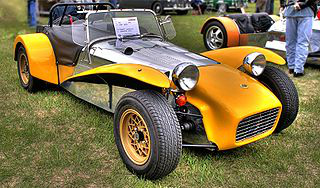 1970 Lotus Super Seven
                                                         Full Screen                                                                                                                                Full Screen
     On 1st January 1973, the UK joined the EEC, whereby Purchase Tax was replaced by VAT which did not allow the concession whereby cars, supplied as a kit, were zero rated for tax purposes.
     Therefore, the tax advantage of Lotus Sevens in kit form was removed at a stroke.
     Accordingly, Lotus decided to withdraw from the kit car market, and concentrate on racing cars.
     In August 1973, Lotus sold all its rights associated with the Lotus Seven to Caterham Cars, its sole remaining agent in the UK, and Steel Brothers Limited in New Zealand.
     In the early 1970's, the availability of Series 4 kits ceased, and so Caterham took advantage of its agreement rights to rebrand the Series 3 as the Caterham Seven Series 3.
     Since then, they have marketed the car under the brand name Caterham Seven.
     The Series 4 was assembled by Steel Brothers until 1979, when no further supply of kits was available.
     In 1970, Lotus Argentina SA was granted a license to build the Lotus Seven in Argentina.
     By 1975, a total of 51 units had been built.
SPORTS CARS FOR SALE
     A 1970 Lotus Seven Series 4 in very good condition would fetch in the region of £17,000/$27,000.
                                                             .
                                                 see All My Reviews
Home

›
Lotus Sports Car
› Lotus Seven Series 4 Sports Car
                              Got an interesting Sports Car story  to tell?