The Lotus Esprit V8 Sports Car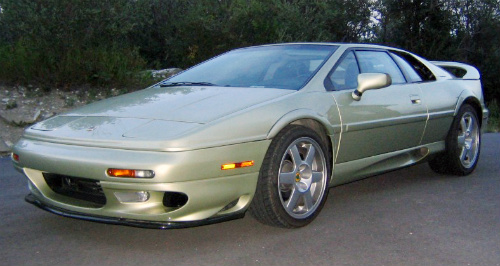 1997 Lotus Esprit V8
                                            from Classic to Modern

The Lotus Esprit V8
     The Lotus Esprit V8 sports car was launched in March 1996 at the Geneva Motor Show, and was seen as the replacement of the Series 4 Esprit and the Sport 300.
     After years of much thought since the mid 1980's, Lotus finally decided to fit a V8 engine into the Esprit's mid-engined chassis, together with a new interior, uprated clutch, improved gearchange, and a modified rear wing that was now mounted higher up.
    The need for such a change had its roots in new tighter emission control regulations in the US the result of which would have, almost certainly, prevented the existing 4-cylinder Turbo variant from complying.
     It was powered by a Lotus 3.5 litre, 32 valve, V8, all aluminium, twin turbocharged engine, using Garrett T25/60 turbos.
    This engine, developed by Lotus, was designated the Lotus 918, and produced 350 bhp, with a top speed of 175 mph, a 0-60 mph time of 4.3 secs, and a 0-100 mph time of 10.1 secs.
     This was a huge improvement over the 4-cylinder Turbo, and positioned it on a par with its arch rivals the Ferrari F355 and Porsche 996.
     The 918 engine originally developed 500 bhp, but was detuned to 350 bhp in order to prevent damage to the Renault transmission linkages, which were not able to cope with such output.
     It was fitted with the same Renault five speed gearbox as previously, but no charge-cooler (intercooler) was added.
     It retained the same ABS braking system, sported even larger wheels, and proudly displayed a V8 badge next to the rear lights.
     The wood and leather interior was replaced by a more minimalist approach, including the use of push buttons within a redesigned centre console.
     However, it still retained, from previous models, a necessary struggle to enter or leave the car.
     Rear vision was still poor owing to the size of the rear spoiler.
     In late 1997, the V8 sports car was presented in two slightly different specification formats, designated the Special Equipment (SE) and GT models.
     The performance of each was virtually unchanged, with both displaying a restyled interior. 
     However, the SE variant was offered with more luxurious appointments.     
Technical Data                   Esprit V8     Esprit V8 GT     Esprit GT3
Production                        1996-1997    1998-1999     1997-1999
Engine, cc                               3506             3506               1973
Cylinders, bhp                       8, 350           8, 350             4, 240
Speed mph                               175               170                162
0-60 secs                                 4.3                4.2                 5.2
0-100 mph                             10.1               9.7                12.9
Torque ft/lbs                           295               295                216
Standing 1/4 mile secs           12.7              12.6               13.8
Overall fuel                             19.5              19.7               29.2
Consumption mpg
                                                                                                   Full Screen
The Lotus Esprit V8 GT
     In October 1997, the Lotus Esprit V8 GT sports car was introduced at the London Motor Show.
     It was powered by the same engine, and offered the same stunning performance as the V8, but without some of the more luxurious fitments, such as leather seats and air conditioning.
     As a result, its weight was reduced by about 50 kg, and the price tag was lowered by around £10,000, which made it much more attractive at just under £50,000.    
     There were a number of changes to this variant, which included:
A racing clutch was added to make operating the clutch much easier
The gearbox selector mechanism was modified to make it quieter and more precise
The anti lock braking system was overhauled
The rear wing was removed
The leather seats were replaced by composite racing seats from the GT3

 
                                                                                                    Full Screen
The Lotus Esprit GT3
     Also in October 1997, the Lotus Esprit GT3 sports car was introduced as an entry level Esprit, and with the luxurious fittings present in the V8 variant having been removed.
     It was powered by the same Lotus 920, 2 litre, 4-cylinder, turbocharged, charge-cooled engine, that had been used in previous models targeted at the Italian market.
     It developed 240 bhp at 6250 rpm, and 216 ft/lbs of torque at 3750 rpm, with a 0-60 mph time of 5.2 secs, a 0-100 mph time of 12.9 secs, and a top speed of 162 mph.
     Some of the features of the 1997 GT3 included:
There was no aerofoil mounted at the rear
"GT3" insignia were positioned along the bottom of the doors
Seats came from the Sport 300
It used the same lightweight ABS braking system as the V8
It was fitted with the Delco multipoint fuel injection system

 
                                                                                                   Full Screen
SPORTS CARS FOR SALE
     A 1996-97 Lotus Esprit V8 in very good condition would command in the region of £22,000/$35,000 to £30,000/$50,000.
                                                             .
                                                see All My Reviews
Home

›
Lotus Sports Car
› Lotus Esprit V8 Sports Car
                              Got an interesting Sports Car story  to tell?