The Later Caterham Seven Sports Car
                                            Caterham Seven Roadsport
                                            from Classic to Modern
     Later Caterham Seven sports car. In August 1973, Caterham Cars received the rights to the Lotus Seven and, from that time, continued production of the Series 4 model.
     By the 1980's, they were producing their own version under the name Caterham Seven.
     In 1983, the Cosworth BDR (Belt Drive R-Type) engines were introduced, the first being the 1.6 litre unit, developing 140 bhp.
     1985 saw the first change to the Caterham Seven when the De Dion back axle was offered as an optional extra.
     In 1986, the 1.7 litre Cosworth BDR engine, developing 170 bhp, was added to the Seven HPC (High Performance Computing) model.
     Soon after, the HPC model was fitted with Vauxhall's 2 litre, 16 valve, XE engine which, with an upgraded induction and exhaust system, developed 175 bhp, with a 0-60 mph time of 5.2 secs.
     In 1990, developments of the non Classic Seven range included the introduction of the lightweight, Rover K Series engine, with an aluminium block.
     The first engine to be used was the 1.4 litre, K Series, as used in the Metro GTI saloon.
     Since it only developed 103 bhp, it was regarded as uncompetitive, and was rejected by the market.
     That year, the premier engine was the 2 litre, Vauxhall HPC unit, developing 175 bhp, as used in the Vauxhall Calibra saloon.
     There were also HPC Evolution Seven's, fitted with engines developing 218 bhp and 235 bhp.
Technical Data

HPC


Supersport


Superlight


Superlight

Production
1986
1993
1996
1996
Engine, litre
2.0
1.4
1.6
1.8
Cylinders, bhp
4, 175
4, 130
4, 140
4, 187
Torque ft/lbs
155
99
115
130
Top Speed mph
117
113
129
130
0:60 mph, secs
5.2
6.0
4.6
3.7
0:100mph, secs
-
-
-
-
Standing 1/4 Mile,
secs
-
-
-
-
                                                 1993 Caterham Seven
                                                    1989 Caterham 7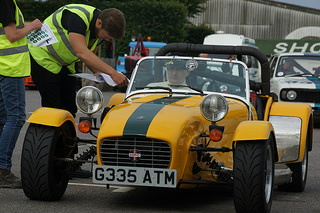 1990 Caterham 7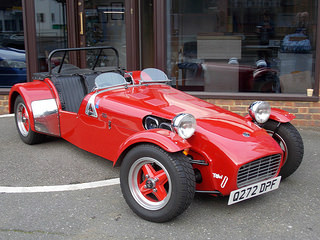 1990 Caterham Seven
                                                            Full Screen                                                                                                                             Full Screen
     In 1992, the 30 unit limited edition JPE (Jonathan Palmer Evolution) Seven was powered by a Vauxhall XE unit, developing 250 bhp at 8000 rpm.
     It created new world records, with a 0-60 time of 3.4 secs, and an incredible standstill to 100 mph and back to standstill time of 12.6 secs.
     It was fitted with a 2 litre engine from a Vauxhall Touring car, and its weight was reduced in  various ways, such as replacing the windscreen with an aeroscreen.
     In fact, with performance like this, its only known competitor was the McLaren F1.
     On the other hand, the majority of customers chose the HPC model, which developed a more manageable 175 bhp.
     In 1993, the K Series, 1.4 litre Supersport was launched, developing 130 bhp, and which, coupled to a new close ratio Caterham gearbox, produced a 0-60 mph time of 6.0 secs.
     This reignited sales of the K Series Sevens sports car.
     In 1996, the 1.6 litre, K Series engine was introduced, with the 1.8 litre unit following a year later, both with different levels of tuning.
     That same year saw the launch of the Caterham Superlight range of Sevens, which used lightweight materials to reduce the overall weight as much as possible, and were based on K Series engines, developing ever increasing power.
     The weight was reduced by removing non essential items, such as the spare wheel, carpets, heater, hood, doors, and replacing the windscreen with an aeroscreen. Also, the front wings and nosecone were made of carbon fibre.
     A tuned 1.6 litre, K Series Superlight developed 140 bhp, with a 0-60 mph time of 4.6 secs, and a top speed of 129 mph.
     The Superlight-R used a tuned 1.8 litre, K Series engine, developing 187 bhp, and with a 0-60 mph time of 3.7 secs.
     With this performance, it established a new lap record at Nurburgring for production cars.
     However, a Porsche 911 GT3 broke this record two years later.
     Not to be outdone, Caterham introduced the Superlight R500, sporting a highly tuned K Series engine, developing 230 bhp, and with a 0-100 mph time of 8.2 secs.
     With this car, they duly beat the Porsche's lap time.
     Between 1997 and 2006, there were many exciting developments in the Caterham Seven sports car.
                                                             .
                                                see All My Reviews
Home

›
Lotus Sports Car
› Later Caterham Seven Sports Car
                                 Got an interesting Sports Car story  to tell?