The Lotus Mark 1 to 6 Sports Car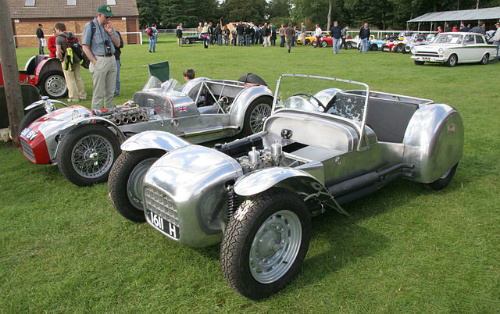 Lotus Mark 6
                                            from Classic to Modern

The Lotus Mark 1
     Designated the Lotus Mark 1 sports car, which he called the Austin 7 Special, in 1948, Colin Chapman designed and built his first sports car
     It was conceived as a trials car, and was built on a 1937, 750 cc, 15 bhp Austin 7 saloon car chassis and drive train.
     The body consisted of aluminium panels bonded to plywood, which gave it additional strength.
     He modified the rear suspension to improve handling, and the engine to develop more power.
    Later on, larger wheels were added, and the front axle was split and hinged in the centre so as to convert it into a form of independent suspension.
     That same year, the Mark 1 was entered into two trials, and achieved its very first Class win in each.
The Lotus Mark 2
     In 1949, he created the Lotus Mark 2 which was, in essence, a modified version of the Mark 1.
     The chassis was strengthened, the Austin 7 back axle was retained, and the Austin engine and gearbox were replaced by those from a Ford 10 saloon.
     This engine used an 1172 cc, straight 4-cylinder, side valve engine, which developed 30 bhp at 4000 rpm.
    He modified this engine as much as the trials rules would allow, and competed in trials events, funded by the 750 Motor Club, which promoted the sporting use of the 750 cc Austin 7.
     He also entered the car in race meetings, such as Silverstone, in which he gained a Class win.
     From then onwards, he centred his attention on racing circuits rather than trials events.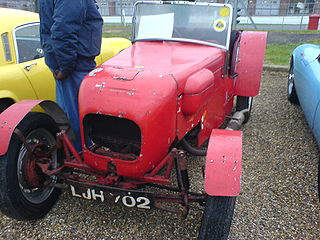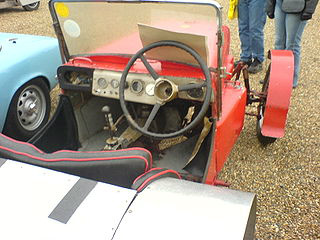 The Lotus Mark 3
     Built in 1951, the Mark 3 was designed as a single seater, 750 road racer.
     Retaining the Austin 7 gearbox and differential, he strengthened the chassis , added a streamlined two seater aluminium body, and modified the engine.
    This circuit race car had a top speed of 90 mph, with a 0-50 mph time of 6.6 secs.
     Within the year, the Mark 3 was the best performing 750 Formula road race car in the UK, and was the first Lotus sports car to be sold.
     It did so well that the racing governing bodies had to change the rules so that other competitors had a chance against the Mark 3.
The Lotus Mark 4
     Built in 1952, this used a reinforced Austin 7 chassis, and an 1172 cc, 4-cylinder, Ford side valve engine, fitted to a three speed gearbox from a Ford 8 saloon.
     It used a lightweight aluminium body, and the front axle was again split and hinged to produced an equivalent form of independent suspension.
     Based on his success with this car, Colin Chapman set up the Lotus Engineering Company that year.
The Lotus Mark 5
     This was his single seater concept in which a car based on a non supercharged Austin 7 engine could reach 100 mph.
     It never materialised.
The Lotus Mark 6
     In late 1952, he realised there was latent demand for the sale of parts to individual customers, who would then build their own cars.
     As a result, progress on the Mark 5 was halted for this new market potential to be investigated.
     That same year, the first production Lotus, the Mark 6, was introduced.
     It was available as a kit car, with a choice of engines and gearboxes.
     It incorporated an aluminium body on an advanced spaceframe chassis, which would accept a number of different engines, with mechanical parts available from the Ford Prefect saloon.
     Its superior performance and excellent handling characteristics made it a popular road race car.
     Typical engines included:
1172 cc, straight 4-cylinder, side valve unit, from a Ford Prefect, and developing 50 bhp
1250 cc, straight 4-cylinder, overhead valve unit, from an MG TD Midget, and developing 57 bhp
1500 cc, straight 4-cylinder, overhead valve unit, from an MG TF Midget, and developing 63 bhp
1508 cc, straight 4-cylinder, overhead valve unit, from a Ford Consul, and developing 47 bhp
Various Coventry Climax Units
     By 1955, 100 of the Mark 6's had been built.
     Typical performance from the Ford Prefect engine was:
Power: 50 bhp
Torque: 57 ft/lbs
Top speed: 93 mph
0-60 mph time: 15.0 secs
     As it turned out, this model was a resounding success, and formed the basis for the introduction of the Mark 7, the illustrious Lotus 7 sports car.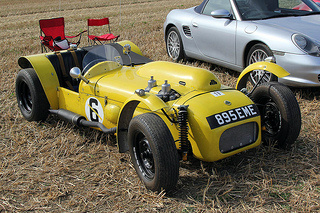 1954 Lotus Mk 6                                                                               This 1952-57 early racer employed a 50 bhp,                                                       Ford 1172 cc, straight-4, side valve unit which                                                        gave a top of 93 mph with 0-60 in 15.0 secs.                                                        This kit car was popular in rally and hill climbs
                                                          Mark 6
                                                       Full Screen                                                                                                                                   Full Screen
                                                              .
                                               see All My Reviews
Home

›
Lotus Sports Car
› Lotus Mark 1 to 6 Sports Car
                            Got an interesting Sports Car story  to tell?