The Lotus Seven Series 1 Sports Car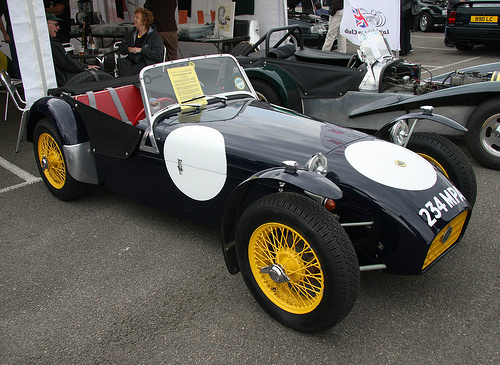 Lotus Seven Series 1             Image
                                           from Classic to Modern
     The very first Lotus Seven sports car prototype was fitted with a Coventry Climax engine, disc brakes on all four wheels, and a De Dion back axle.
     When entered in hill climb and sprint events, it swept all before it, and caused quite a stir.
    In July 1957, the Lotus Seven was launched at the Earls Court Motor Show.
     Based on Colin Chapman's Lotus Mark 6 model, the road version that was introduced was a very detuned version of the original car:
The Coventry Climax engine was replaced by a 1172 cc, in line 4-cylinder, Ford 100E side valve engine, developing 40 bhp, as used in the Ford Anglia and Prefect saloons
De Dion back axle was replaced by a solid axle from the Metropolitan saloon, built by BMC for the Nash Corporation in the US
Four wheel disc brakes were replaced by drum brakes
     This later came to be known as the Lotus Seven "F".
     The target market for this model was low budget club racing, epitomised by the 750 club.
     Its handling was praised, and the lightweight chassis enabled the car to produce a lively performance for that time, with 0-60 mph in 16.2 secs, and a top speed of 80 mph, and even 85 mph with the windscreen replaced by aeroscreens.
                                                        Full Screen                                                                                                                              Full Screen
     This was the car that maintained the financial viability of Lotus at that time.
     The selling price of the assembled car was twice that of the kit version, and it was no wonder that the latter was the most popular choice.
     The reason for this huge price differential was due to the hefty levels of purchase tax on manufactured cars.
     On the other hand, car components were exempt from purchase tax, and it was for this reason that, in the 1950's, the sale of kit cars turned into big business.
     As the car became more popular, alternative engines were offered which generated higher output.
     In December 1958, the Lotus Super Seven was introduced and featured:
An 1100 cc Coventry Climax engine, developing 75 bhp, that was fitted to the original prototype
SU carburettors
BMC gearbox
Nash Metropolitan back axle
Drum brakes all round
     It came to be known as the Lotus Seven "C".
    In October 1959, a replacement was the 948 cc BMC "A" Series engine, as fitted to the Austin-Healey Sprite, and which was sportier than the original Ford 100E unit.
     This engine developed 48 bhp and 52 ft/lbs of torque, had a top speed of 81 mph, with 0-60 mph in 12 secs.
     In the UK, it was designated the Lotus Seven "A", whilst those exported to the US were assigned the title Lotus Seven "America".
                                                              .
                                               see All My Reviews
Home

›
Lotus Sports Car
› Lotus Seven Series 1 Sports Car
                              Got an interesting Sports Car story  to tell?