The Lotus Esprit Series 2 Sports Car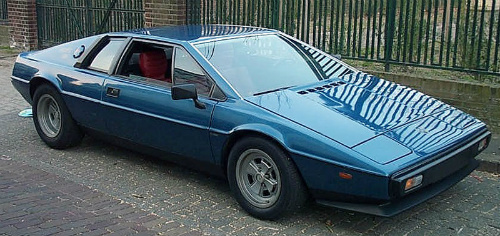 1980 Esprit Series 2
                                          from Classic to Modern

The Lotus Esprit Series 2
     The Series 1 Esprit sports car had, during its two year production run, received a number of criticisms from the press and customers, which caused Lotus to seek ways to improve the car.
     The outcome of this was the launch of the two door, two seater, Series 2 variant in June 1978.
     The only mechanical changes were the introduction of a modified camshaft, and the replacement of the original Wolfrace wheels with 14 inch Speedline alloy equivalents.
     The most obvious external changes were:
Front under nose spoiler was blended into the shape of the car
Engine compartment air intakes now moved behind the rear side windows to facilitate the movement of cold air into the engine bay
Rover SDI rear lights replaced those from the Fiat X19
Headlights were now lifted by two electric motors
Redesigned, wider seats
New instrument cluster and a digital clock
Redesigned engine cover
The emblem "Esprit" replaced "Lotus" on the bonnet, with "Esprit S2" at the rear
     There was a promotional coup when Mario Andretti and Ronnie Peterson received the first two Series 2 sports cars.
     At the NEC Motor Show in October 1978, Lotus launched a limited edition of 100 of the Series 2 which displayed the black and gold John Player Special livery.
     This was to commemorate Mario Andretti winning the Formula 1 World Championship, driving a Lotus 79 JPS Mark 4.
     Each of these 100 cars received an individual plaque, fitted to the dashboard, which had been personally signed by Colin Chapman.
     Between 1978 and 1979, it has been estimated that, in fact, 149 of the JPS variant were built.
     The Series 2 still retained a drag coefficient of only 0.34, whilst its top speed was 124 mph, with a 0-60 mph time of 8.4 secs, and an overall fuel consumption of 24 mpg.
    Between June 1978 and January 1980, when the Series 2 was discontinued, a total of 1,060 units of these Lotus models were built. 
Technical Data                          Series 2            Series 2.2
Production                              1978-1980        1980-1981
Engine, cc                                   1973                   2174
Cylinders, bhp                           4, 160                 4, 160
Speed mph                                   124                    124
0-60 secs                                      8.4                     8.6
Torque ft/lbs                                140                    160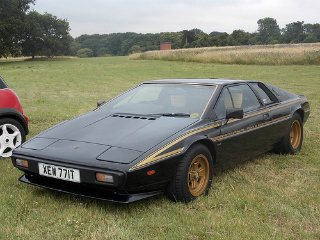 1979 Lotus Esprit S2 John Player Special                                                              This was one of only 123 made in JPS livery.                                                         Seen here at a Classic Car Show in Sevenoaks                                                                                 in Kent. Very nice
| | | |
| --- | --- | --- |
| |   1979 Series 2 John Player Special limited edition | |
The Lotus Esprit Series 2.2
     The further development of the Esprit was by means of the introduction of a more flexible and powerful engine.
     The solution was not only to increase the stroke of the original Type 907 engine, which would provide it with more low speed and mid range torque, but also adding a new crankshaft.
     The result was that the capacity was increased from 1973 cc to 2174 cc, with a corresponding increase in torque.
     This engine was now designated the Type 912.
     Furthermore, an equivalent Type 911 engine was used, in March 1979, to power the new Sunbeam Lotus "hot hatch", designated the Lotus 81.
     In January 1980, the Series 2 Esprit was replaced by the Series 2.2 sports car, which now incorporated the new Type 912 engine, a galvanized chassis, and a modified, part stainless steel, exhaust system.
                Engine                                  Power                              Torque
1973 cc Type 907 as used       160 bhp @ 6200 rpm      140 ft/lbs @ 4900 rpm
in the Series 1 and 2
2174 cc Type 911 as used       150 bhp @ 5750 rpm      150 ft/lbs @ 4500 rpm
in the Sunbeam Lotus
2174 cc Type 912 as used      160 bhp @ 6500 rpm       160 ft/lbs @ 5000 rpm
in the Series 2.2
     Externally, it was only the new "Esprit 2.2" badge at the rear that heralded the uprated engine.
     It used two twin choke Dell'Orto DHLA4SE carburettors, a glassfibre reinforced plastic (GRP) body, 9.7 inch front disc brakes and 10.6 inch rear discs, and a compression ratio of 9.4:1.
     In terms of Lotus models, the Series 2 Esprit is still in demand on the second hand market. In fact, as a used Lotus, it can sell for anything from £12,000 to about £22,000.
     The Series 2.2 sports car was produced between May 1980 and June 1981, when only 88 units were built.
     This model was introduced as a stop gap measure, prior to the introduction of the Series 3 variant.
                                                              .
                                                see All My Reviews
Home

›
Lotus Sports Car
› Lotus Esprit Series 2 Sports Car
                              Got an interesting Sports Car story  to tell?