Lotus Esprit Sport 300 Sports Car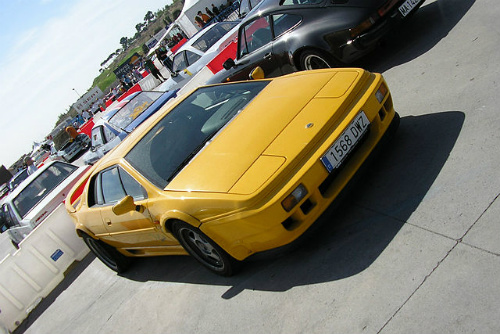 Lotus Esprit Sport 300
                                          from Classic to Modern
     The Lotus Esprit Sport 300 sports car received its body styling from Julian Thompson, the chief designer at Lotus.
     The car was originally presented in the form of a concept at the NEC Motor Show in Birmingham in 1993, and was an immediate success, notwithstanding the fact that it was coloured bright yellow.
     It was conceived as a limited edition sports car with a target market of about 50 units and was, in essence, the road going version of the Esprit X180R.
     In the end, 64 units of the Sport 300 were built over a two year production period. Such a used Lotus had a good market potential.
     Although it had a price tag of nearly £65,000, it was still cheaper than a Ferrari 348TB.
     The styling of the body was based on Lotus models such as the Esprit Series 4, to which was added:
A front airdam which incorporated a number of ducts for cooling the brakes
The wheel arches were significantly extended
A large wing was added at the rear
     The rest of the car was, in fact, a variant of the Esprit X180R which was entered, with great success, during the 1991 to 1993 seasons, in the America World Challenge series, sponsored by the SCCA (Sports Car Club of America).
     It embodied a four point braced frame which provided additional tortional rigidity, something that had always been lacking in earlier Esprits.
     Unusually for Lotus, it was fitted with a limited slip differential, which came as standard equipment.
     The overall weight of the car was reduced by the extensive use of composite materials.
     It had powered assisted steering, and the suspension geometry was modified with much stronger coil springs and dampers, which were fitted all round.
     Furthermore, the front track was increased, whilst that at the rear was widened by two inches. 
                                  Lotus          Porsche         Ferrari         Marcos
Technical Data       Sport 300     964 Turbo        F355          LM500
Production             1993-1994   1991-1995  1994-1999   1994- 2001
Engine, cc                    2174           3600             3500            4999
Cylinders, bhp            4, 302         6, 360           8, 380          8, 320
Speed mph                   161              175              180              168
0-60 secs                     4.7               4.6               4.6               4.7
0-100 mph                 11.7             10.5             10.6             11.9
Torque ft/lbs               287              326              268              330
                                                           Full Screen                                                                                                                              Full Screen
     A very noticeable feature of the car were the OZ three piece wheels, which measured 8.5x16 inches at the front, and 10.5x17 inches at the rear, and produced outstanding grip and braking.
     It sported 327 mm front ventilated discs with 280 mm discs at the rear, used racing calipers, and was backed up by a Delco ABS anti lock braking system.
     It was powered by a Lotus 910S, 2174 cc, 16 valve, twin overhead cam engine, linked to a revised Garrett T3/T4 turbocharger, and a charge-cooler (intercooler).
     With a compression ratio of 8.0:1, it was fitted with Delco Multi Point Fuel Injection.
     Using enlarged inlet valves, polished inlet ports, and a recalibrated engine management system, it developed 302 bhp at 6400 rpm, and 287 ft/lbs of torque at 4400 rpm. Hence the name Sport 300.
     With a power-to-weight ratio of 243 bhp per ton, this was on a par with the Porsche 911 Turbo 3.6 of the period.
     It had a 0-60 mph time of 4.7 secs, a 0-100 mph time of 11.7 secs, a standing 1/4 mile time of 13.4 secs, and a top speed of 161 mph.
     A reflection of the engine's flexibility was shown in the following figures:
A 30-50 mph time in fourth gear of 8.0 secs
A 50-70 mph time in top gear (fifth) of 7.4 secs
     The weaknesses of the Sport 300 included:
A hard ride
Restricted visibility caused by the large rear spoiler
The engine became noisy at 100 mph
The sound of only a 4-cylinder engine was uninspiring
Its hefty price tag
     A variant of the Sport 300 was to be found in the launch, in 1999, of the Lotus Esprit Sport 350, featuring a V8 engine.
SPORTS CARS FOR SALE
     A 1993-94 Lotus Esprit Sport 300 in very good condition would fetch in the region of £25,000/$40,000 to £30,000/$50,000.
                                                             .
                                                see All My Reviews
Home

›
Lotus Sports Car
› Lotus Esprit Sports 300 Sports Car
                              Got an interesting Sports Car story  to tell?