The TVR Trident Sports Car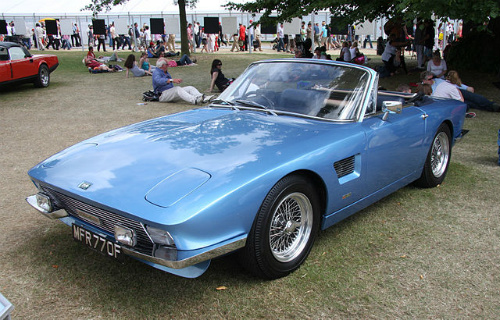 TVR Trident
                                              from Classic to Modern
     TVR Trident sports car. In the early 1960's, there was a feeling at TVR that the time was right to take the company more upmarket.
     In fact, they had their sights on the market sector dominated by such marques as Jaguar and Aston Martin.
     This new model would be based on the existing TVR chassis, while the body would be placed in the hands of a famous Italian design house which, at that time, was in high demand from fashionable, quality motoring brands.
     In the Spring of 1963, TVR management had a meeting with Trevor Frost, an English designer, who was currently working for the coach builder Carrozzeria Fissore, in Turin.
     He imparted his ideas for the design of a new TVR sports car, which duly impressed the management team.
     However, at that time, they were unable to take the design concept to the next level, since they lacked the funds to do so.
     Notwithstanding, the project was duly reactivated in the Winter of 1964 under the name of TVR Trident.
     Accordingly, Trevor Frost presented the outline plans to Carrozzeria Fissore who agreed to build two Trident prototypes, based on the chassis initially assigned to the TVR Grantura, which had been modified for use in the Griffith 400 and 600 models that incorporated a V8 engine.
     These prototypes, designated Trident Number 1 and 2, were presented at the 1965 Geneva Motor Show.
     The styling was unlike any TVR up to that time, and displayed a distinctive wedge shape synonymous with the TVR 350i of the 1980's rather than the existing classic TVR lines.
     The body, just like the Griffith 600, was to be built of steel, with an aluminium bonnet, rather than the traditional TVR fibreglass construction.
     Again, with undertones of the "600", the Trident sports car was to be powered by a 4.7 litre, Ford V8 engine, with a compression ratio of 11.0:1, and linked to a four speed gearbox, developing 271 bhp at 6000 rpm, and 313 ft/lbs of torque at 2400 rpm, and with a top speed of 134 mph.
     The Italian connection was further emphasised by the use of rear lights and internal switches from Alfa Romeo, and front lights from Fiat.
     The car received a warm reception from the motoring press, and some encouraging orders were placed following the Geneva Show.
     Buoyed up by this initial success, TVR placed orders with Carrozzeria Fissore for a further two Trident prototypes.
     These were to be in the style of a coupe and convertible, designated Trident Number 3 and 4, and were to be used as test vehicles so that development work on the Trident could move forward.
TVR Technical Data                 Trident      Griffith 600    Griffith 400
Production                                 1965             1965          1964-1966
Engine, cc                                  4727             4478               4727
Cylinders, bhp                           8, 271           8, 235            8, 271
Top Speed mph                          134                130                 155
0-60 mph, secs                          5.0                 6.0                  4.6
Standing 1/4 mile secs                 -                 14.7                13.4
Torque ft/lbs                             313                280                 312     
     As a result of disappointing sales of the Grantura and Griffith 400, due primarily to the prolonged US dock strike in 1965, TVR was forced into bankruptcy, for the second time, in August of that year.
     To compound matters, this occurred before the additional two Trident prototypes were received from Carrozzeria Fissore.
     However, by Christmas 1965 Martin Lilley, a TVR dealer, took control of the company, and resumed production of existing models.
     Unfortunately, while this financial restructuring was taking place, Bill Last, a TVR dealer from nearby Suffolk, was in discussions with Carrozzeria Fissore to acquire the manufacturing rights to the Trident.
     Since, at that time, the future of TVR was in doubt, Carrozzeria Fissore agreed to transfer the rights from TVR to Bill Last.
     He then commissioned them to build a restyled Trident sports car, with a chassis based on that from the Austin Healey 3000, and a body made from GRP, instead of steel.
     Between 1966 and 1976, Bill Last's company, called Trident Cars Ltd, and later the Trident Motor Company, built around 130 Trident sports cars.
     The first prototype of the Trident, from Trident Car Ltd, was shown at the 1966 London Racing Car Show, powered by a 289 cubic inch, Ford 4727 cc, V8 engine, with a boxed chassis, and coil spring front and semi elliptic rear suspension.
     A 2+2 fastback coupe, built by Carrozzeria Fissore, with a fibreglass body on an Austin Healey 3000 chassis, and powered by the same 289, Ford V8 engine, was premiered at the 1967 London Racing Car Show.
     Although most of the production was exported to the US, it was sold in the UK in the form of a kit.
     Fitted with 11 inch disc brakes all round together with a high internal specification, the Trident had a top speed of 150 mph, and a 0-60 mph time of 5.0 secs.
                                                             .
                                                   see All My Reviews
Home

›
TVR Sports Car
› TVR Trident Sports Car
                                  Got an interesting Sports Car story  to tell?