The TVR Griffith 500 Sports Car
                                                     TVR Griffith 500
                                             from Classic to Modern
     The Griffith 500 sports car. Throughout 1992, the engine capacity of the TVR Griffith sports car was increased gradually from the 4 litre unit at its launch earlier in the year.
     The first increase was the high compression version of the 4 litre unit, which incorporated a high lift camshaft.
     However, for an additional £2,400, the 4.3 litre variant was available, as an optional extra, and fitted with:
Gas flowed and polished heads
Larger valves
Re-profiled camshaft
Increased compression ratio
Balanced flywheel
Remapped engine management system
     This produced 280 bhp at 5500 rpm, and 305 ft/lbs of torque at only 4000 rpm, which gave it a top speed of 158 mph, a 0-60 mph time of 4.6 secs, and a 0-100 mph time of 11.3 secs.
     Understandably, customers preferred this variant over the 4 litre standard unit. It was well received by the motoring press.
     Later that year, a 4.5 litre variant was introduced, which developed 285 bhp, and 310 ft/lbs of torque. This produced a top speed of 158 mph, and a 0-60 mph time of 4.6 secs. 
     Production of Griffiths for the home market was halted in December 1992 so that export orders could be fulfilled, and to concentrate on the TVR Chimaera, a sister model of the Griffith.
     By this time, TVR's own engine, the AJP8, was almost ready to be fitted to the Griffith.
     However, following delays in producing the AJP8, and demand for the Griffith steadily increasing, in August 1993, a 5 litre version of the Rover V8 unit, that had been developed by TVR, was used instead.
     This final variant gave rise to the designation Griffith 500 with which the model became universally known.
     As far as the press was concerned, the Griffith 500 was a resounding success, with one commentator even suggesting that it was "overpowered".
     In this iteration, the engine developed 340 bhp at 5500 rpm, and 350 ft/lbs of torque at 4000 rpm, which produced a top speed of 169 mph, a 0-60 mph time of 4.1 secs, and a 0-100 mph time of 10.5 secs.
     However, when fitted with a catalytic converter, output was reduce to 320 bhp.
     All versions of the new Griffith were fitted with:
A five speed gearbox from the Rover SDI saloon
All round independent suspension
10 inch vented disc brakes front and rear
15 inch aluminium alloy wheels at the front and 16 inch at the rear
Uprated brakes and suspension
     Production of left hand drive cars for Europe began in early 1993.
     In 1994, the gearbox was changed from the Rover SDI unit to the near bullet proof Borg Warner T5 Tremec.
     In 1996, the Griffith Speed Six sports car was premiered, fitted with the TVR designed AJP 3996 cc, straight 6-cylinder engine, developing 380 bhp. However, in the end, this model did not enter production.
Technical Data                        4.0              4.3          4.5            5.0
Production                              1992          1992        1992         1993
Engine, cc                               3947          4280        4495         4988
Cylinders, bhp                       8, 240        8, 280      8, 285       8, 340
Top Speed mph                       152            158          158           169
0-60 mph, secs                       4.8             4.6           4.6             4.1
Standing 1/4 mile secs           13.2           13.3            -             12.8
Torque ft/lbs                          270            305          310            350
0-100 mph, secs                    12.1           11.3           -              10.5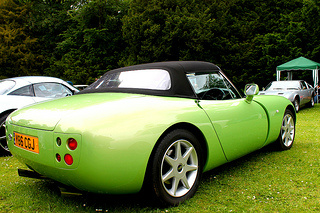 TVR Griffith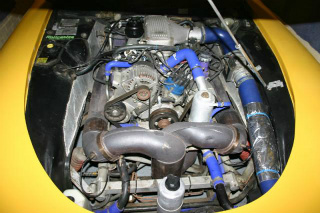 TVR Griffith 500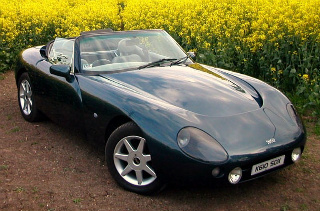 Full Screen                                                                                                                                 Full Screen
                                                                                   Full Screen
     With the pending re-introduction of the Tuscan in 1999, sales of the Griffith 500 had already begun to tail off.
     Since the TVR Chimaera and Cerbera models were also being produced at this time, the company decided, in 2000, to slowly phase out the Griffith.
     This was achieved by the introduction, in 2001, of a 100 unit limited special edition (SE) version of the car.
     This variant was very similar to the production version, but with the following modifications:
It used the dash from the Chimaera
Seats came from the Cerbera
Alternative rear lights and door mirrors
Clear indicator lenses
More powerful headlights
     Each individual SE car received a special plaque in the glove compartment, a special edition badge positioned on the boot, and a unique signature in the floor of the boot.
     Although the Griffith was a fabulous looking sports car, its weakness was in terms of practically.
     This was overcome with the Chimaera which was, in essence, a Griffith with a larger boot and softer suspension, but equally as fast.                                     
SPORTS CARS FOR SALE
     A high mileage 1993-2000 Griffith 500 would fetch around £10,000/$16,000, whilst a good condition example would command anything between £14,000/$22,000 and £20,000/$32,000, with a really exceptional car fetching as much as £30,000/$50,000.
                                                             .
                                               see All My Reviews
Home

›
TVR Sports Car
› TVR Griffith 500 Sports Car
                              Got an interesting Sports Car story  to tell?