The TVR Tamora Sports Car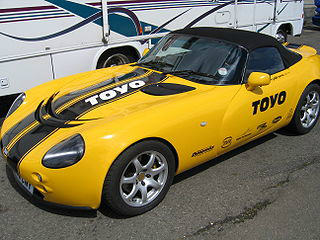 TVR Tamora
                                               from Classic to Modern
     Launched in 2002, the TVR Tamora sports car, a two seater convertible, was introduced to cover the space left by the Griffith and Chimaera that were now discontinued.
     It was marketed as an entry level model to the TVR range with a price tag of £43,460, and was powered by the company's own 3.6 litre, double overhead cam, straight 6-cylinder Speed Six engine.
     Fitted with a five speed gearbox, it had been slightly detuned, and developed 350 bhp at 7200 rpm, and 290 ft/lbs of torque at 5500 rpm.
     It produced a top speed of 175 mph, with a 0-60 mph time of 4.2 secs, a 0-100 mph time of 9.1 secs, and a standing quarter mile time of 12.5 secs.
     The all alloy engine used four valves per cylinder, and had a fully tuned engine management system. It had a 58/42 weight distibution.
     It was fitted with a tubular steel chassis, and some of its features included:
Fitted with a BTR limited slip differential
12 inch disc brakes at the front, 11.1 inch at the rear, and AP Racing calipers
All round independent suspension using coil springs and anti roll bars which gave it a firm ride
Power steering and central locking
16 inch road wheels as standard
No traction control, ABS, or Air Bags
Electrically controlled windows, boot release, and door windows
Alarm system and engine immobiliser
Tinted glass and a removable stereo system
Ice detector which produced a flashing warning light
Doors opened using a button positioned underneath the wing mirror
Body was constructed of glass reinforced plastic
     There was a simple folding mohair hood, with a Targa style one piece removable roof panel, which could be easily stored in the boot and which, when removed, allowed the rest of the hood to be folded down flat.
     The Tamora presented an interesting scenario in that it offered Supercar performance for the cost of a Mazda MX-5. 
Technical Data                    Tamora         Boxter S     SLK 32 AMG
Production                        2002-2006        2002             2001
Engine, cc                               3605            3436             3199
Cylinders, bhp                       6, 350          6, 315           6, 349
Top Speed mph                       175              173               155
0-60 mph, secs                       4.2               5.0                4.6
Torque ft/lbs                          290              266               332
0-100 mph, secs                     9.1              11.0              10.6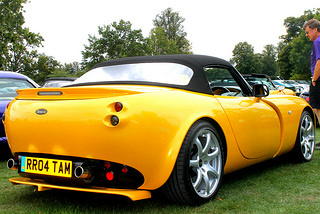 2004 TVR Tamora
                                                          Full Screen                                                                                                                                    Full Screen
                                                                                  Full Screen
     It offered sufficient space in the boot for some luggage, as well as leather seats.
     Typical of its predecessors, the engine tended to make the cab noticeably hot when driven, but this was countered by the presence of air conditioning.
     The ride height was rather low which meant that the front spoiler was prone to contact the surface of bumpy roads.
     The Tamora sports car was seen as a direct rival to the Porsche Boxter S, BMW M-Series, and Mercedes SLK 32 AMG.
     Inside the car, there was plenty of space, and the desired driving position was found by moving the adjustable steering wheel, whilst the pedal position could be altered by adjustment with a spanner.
     Unlike some of its predecessors which used a button to start the engine, the Tamora was a key start.
     Unfortunately, the much needed air conditioning was an optional extra, as was leather trim.
     At its launch, some TVR die-hards regarded the Tamora as being ugly and, as things turned out, by the time it was discontinued in 2006, it was not the most popular model in terms of sales.
     Many dealers felt that, for an entry level model, it was overpriced, and hence discouraged newcomers.
SPORTS CARS FOR SALE
     A 2002-06 TVR Tamora would fetch between £16,000/$25,000 and £25,000/$40,000 depending on condition and mileage.
                                                             .
                                                 see All My Reviews
Home

›
TVR Sports Car
› TVR Tamora Sports Car
                                Got an interesting Sports Car story  to tell?