The TVR S Sports Car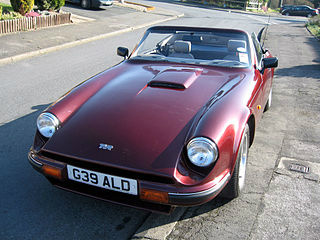 TVR S Series 2
                                             from Classic to Modern
     The TVR S sports car. In order to counter disappointing overall market reaction to the wedge shape concept, which had now become distinctly unfashionable and more than due for replacement, the company decided to revert back to the smoother lines of previous models.
     Consequently, in 1986, the prototype TVR S-Series was premiered at the NEC International Motor Show in Birmingham.
     This Series was marketed as a competitively priced model that could be used as a stepping stone to TVR ownership.
     Reaction to the new body styling was very encouraging, with pre-production orders of 250 being received.
     The TVR S was a two seater convertible with a fibreglass body and multi tubular steel backbone chassis, and was based on the TVR 3000S, which had been phased out in 1979.
     At its launch in 1986, it had no real competitors, was keenly priced, and was seen as both fast and fun to drive.
     By this time, production at TVR had shown a significant increase to the point at which the company was building an impressive fifty cars a week.
     This marked a turning point in the fortunes of the company, with production of the TV S commencing by the end of that year.               
                                                                                            Full Screen
The TVR S Series 1
     Launched in late 1986, the TVR S Series 1, also known as the 280S, was powered by the fuel injected 2.8 litre, Ford Cologne V6 engine, which developed 158 bhp at 6000 rpm, and 162 ft/lbs of torque at 4300 rpm.
     This gave the car a top speed of 135 mph, and a 0-60 mph time of 6.9 secs.
     With a compression ratio of 9.2:1, it was fitted with disc brakes at the front and drums at the rear.
     Production of the Series 1 ended in 1988.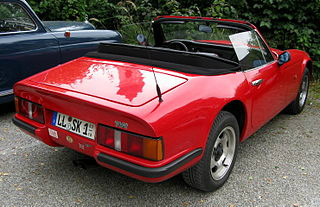 1988 TVR S Series 1
                                                                                                           Full Screen
The TVR S Series 2
     In 1989, the Series 2 variant, also known as the 290S, was introduced, and fitted with the 2.9 litre, Ford Cologne V6 engine, as used in the Ford Sierra saloon.
     Developing 168 bhp at 6000 rpm, and 191 ft/lbs of torque at 3000 rpm, it had a top speed of 140 mph, and a 0-60 mph time of 6.8 secs.
     This model was an improved version of the Series 1, and contained a number of minor upgrades to the trim, and some further refinements, such as the addition of different 7-spoke OZ alloy wheels. 
Technical Data                                Series 1          Series 2-4
Production                                    1986-1988       1991-1994
Engine, cc                                          2792                 2933
Cylinders, bhp                                  6, 158               6, 168
Top Speed mph                                   135                   140
0-60 mph, secs                                   6.9                    6.8
Standing 1/4 mile secs                      15.6                   15.3
Torque ft/lbs                                      162                   191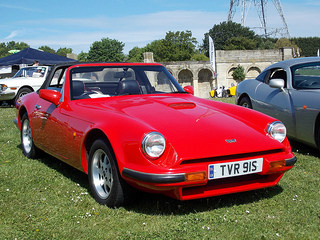 1991 TVR S2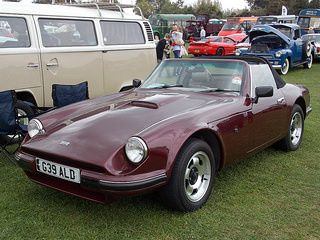 1990 TVR S2 
                                                           Full Screen                                                                                                                               Full Screen
The TVR S Series 3
     In mid 1989, the Series 3 sports car was launched, and featured wider doors in order to improve access to the cabin.
     However, this refinement required some modification to the chassis.
     Other improvements included:
A more traditional walnut dashboard
Chrome bumpers
Delux seats
Electric door mirrors
A significant uprating of the suspension to produce a more comfortable ride
     The Series 3 was later extended to include the Series 3C, which was marketed alongside the S3.
     The S3C was fitted with a catalytic converter which, interestingly, had no effect on power output, although there was even an increase in torque.
     Also included, as standard equipment, was a limited slip differential.
     The use of a letter after the name of the variant indicated that a smaller upgrade was included in that model.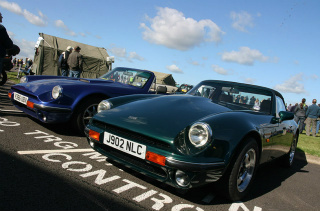 TVR S Series 3 (in the background)
                                                                                                           Full Screen
The TVR S series 4
     In 1992. the Series 4 sports car was presented in the form of the S4C, which featured disc brakes on all wheels, with further improvements to the trim.
     Not many units of this variant were ever built since, in late 1993, the TVR Griffith had been introduced, a much more attractive proposition, and with only around £5,000 difference in price.
     Consequently, production of the S4C ended in 1994.
     The TVR S was produced continuously between 1986 and 1994, when a total of 2,604 units of the Series 1 to 4 were built.     
SPORTS CARS FOR SALE
     A 1986-88 TVRS Series 1 in good condition but with high mileage would fetch around £5,000/$8,000. However, a high mileage 1989 TVRS Series 2 would be worth around £3,000/$5,000, and a 1990-91 TVRS Series 3 in similar condition would command between £5,000/$8,000 and £7,000/$11,000.
                                                             .
                                                see All My Reviews
Home

›
TVR Sports Car
› TVR S Sports Car
                               Got an interesting Sports Car story  to tell?