The Shelby Mustang GT 500KR Sports Car
                               1967 Ford Shelby Mustang GT 500 'Eleanor'                     Image
                                         from Classic to Modern
     The Ford Shelby Mustang GT 350 sports car of 1967 became even more impressive when, in 1968, the Shelby Mustang GT 500KR (King of the Road) was introduced.
     This was fitted with a completely updated version of the 7 litre, 428ci, V8 Police Interceptor engine, referred to as the 428 Cobra Jet, with two four-barrel Holley carburettors, enlarged exhaust manifolds, and modified heads to increase breathing.
     This engine developed 360 bhp at 5400 rpm, and 420 ft/lbs of torque at 3200 rpm.
     Fitted with a 4 speed manual gearbox, and a 10.5:1 compression, it produced a top speed of 129 mph, with 0-60 mph in 6.2 secs, and a standing 1/4 mile in 14.7 secs.
     With front discs and rear drums, it had a curb weight of 1725 kg. By this time, the Mustang sports car was one of the most in-demand cars in the US.
                       For a close look at the Shelby Mustang GT 350, see:                                                          1967 Ford Shelby Mustang GT 350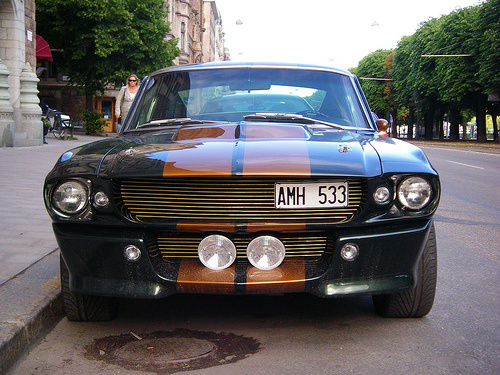 Shelby Mustang GT 500KR                                Image
                                                 1969 Shelby GT 500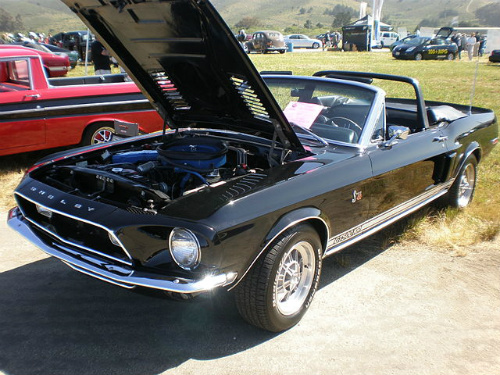 1968 Shelby Cobra GT 500KR Convertible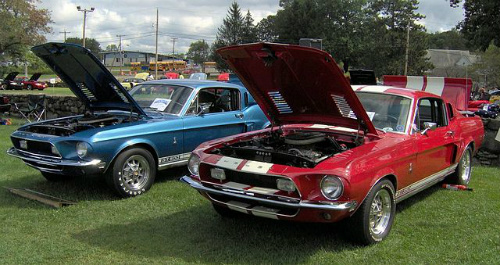 1968 GT500 and GT350 
                                                see All My Reviews

                                           Shelby Mustang GT 500KR