The AC Ace Sports Car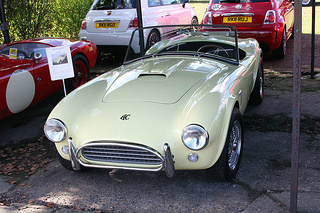 AC Ace                        Image
                                           from Classic to Modern
     The AC Ace sports car. In 1947, AC Cars launched the AC 2-Litre as both two and four door saloons although, two years later, a drophead coupe and Buckland tourer were added to the range.
     All were fitted with AC's own 1991 cc, 6-cylinder, overhead cam engine, developing 74 bhp, and using three SU carburettors.
     Since this was a rather ageing model, the company accepted a design for a new two seater convertible sports car which incorporated a lightweight, ladder style tubular frame, with all round independent leaf spring suspension, and an alloy body.
     The body styling displayed the influence of the two seater Ferrari 166MM Barchetta.
    Early Ace's were fitted with the 2 litre engine, designed by John Weller in 1919, together with a Moss gearbox, and in its first year of production, less than 60 units were built.
     By 1951, the power of the elderly engine used in the AC 2-litre saloon was increased to 100 bhp, which produced a top speed of 103 mph, and a 0-60 mph time of 11.4 secs.
     However, this was a totally unsuitable engine to use with the new modern chassis, and what was required was something more sporty and up-to-date.
     Notwithstanding, in 1953, the AC Ace was launched, using the existing engine, new chassis and body, as a two seater, stylish convertible, and was one of the UK's first post WW2 sports cars to be produced.
     In 1956, after about 220 cars had been built, Bristol Cars, a manufacturer of hand built luxury cars, offered its 2 litre engine as an optional unit for the Ace.
     Ken Rudd, an AC dealer in Worthing, Sussex, fitted a tuned Bristol engine in his own AC Ace, and presented the car at the 1956 Easter Monday race meeting at Goodwood.
     This straight, 6-cylinder engine, fitted with three SU carburettors, developed 130 bhp at 4750 rpm in conjunction with a slick four speed gearbox. The Ace now produced a top speed of 116 mph, with a 0-60 mph time of 9 secs.
     This ushered in the domination of British sports car racing by the AC Bristols.
Technical Data                      Ace                   Ace                  Ace
Production                       1953-1955      1956-1963       1961-1963
Engine, cc                            1991                  1971                 2553
Cylinders, bhp                    6, 100                6, 130               6, 170
Top Speed mph                    108                     116                   130
0-60 mph, secs                    9.1                      8.2                    8.1
Torque ft/lbs                       120                     128                   154
0-100 mph, secs                   -                        34                      -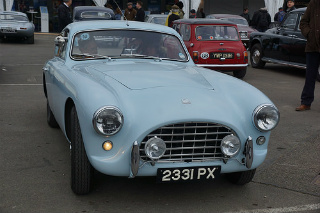 1960 AC Ace                                                                                This very desirable classic in excellent condition                                                        was seen during the 2015 Members Meeting                                                                                 at Brooklands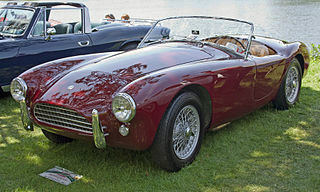 1962 AC Ace              Image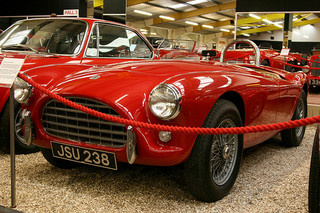 AC Ace Bristol                Image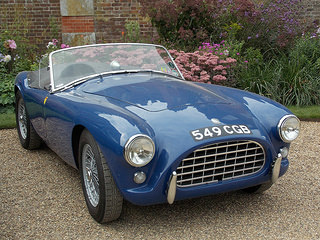 Full Screen                                                                                                                                 Full Screen
                                                                                                           Full Screen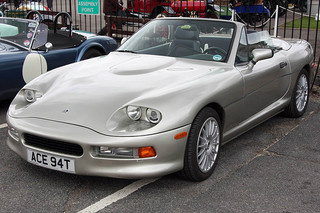 1994 AC Ace                    Image
     Later that year, an overdrive unit was introduced and, from 1957, front wheel disc brakes were offered as an optional extra, although they subsequently became a standard item.
     In 1961, Ken Rudd of Ruddspeed, which originally provided engine tuning for Austin Healey's, adapted the engine from a Ford Zephyr saloon, which developed 90 bhp in standard spec, to produce a 2.6 litre, straight 6-cylinder optional engine for the Ace.
     This variant was fitted with front disc brakes, hydraulic shock absorbers, rack and pinion steering, and a four speed gearbox.
     The engine used either three Webber or SU carburettors, and either a cast iron or Mays cylinder head, which had polished ports and reworked combustion chambers.
     As a result, versions of the Ace now developed 170 bhp, with a top speed of 130 mph, and a 0-60 mph time of 8.1 secs.
     To cope with the increased power, the chassis was strengthened, and stiffer springs were used.
     These variants, built around 1962, made use of a smaller more prominent front grille. However, only 46 of these 2.6 litre versions were built between 1961 and 1963.
     The AC Ace was entered in the Le Mans race in both 1957 and 1958, where it gained a seventh and eighth place result respectively.
     In 1961, Bristol Cars ended production of their 6-cylinder engine and, around this time, Carroll Shelby expressed an interest in adapting the Ace by replacing the 2.6 litre engine with a huge Ford V8 unit.
     In fact, powered by a Ford 289 cubic inch V8 engine, the AC Ace, now called the Cobra, took the winning slot in the GT class in the June 1964 Le Mans race.
     Prior to the introduction of the AC Aceca, a fixed head coupe, the Ace received a detachable hardtop as an alternative to the convertible.
     After 680 cars had been built, the Ace was phased out in 1963 following the launch of the AC Cobra, when production was diverted exclusively to that of the Cobra.       
SPORTS CARS FOR SALE
     A 1953-55 AC Ace in immaculate condition would command in the region of £200,000/$325,000.
                                              see All My Reviews
Home

›
AC Sports Car
› AC Ace Sports Car
                            Got an interesting Sports Car story  to tell?