The AC Cobra 289 Sports Car
                                   1964 Shelby Daytona Cobra Coupe      Image
                                          from Classic to Modern
Cobra Daytona On The Track
                                    1963 Shelby Cobra Daytona Coupé                                                                  Seen whilst undegoing testing prior to the                                                            2015 Goodwood Revival Meeting. Very nice
AC
     The Mark 1 AC Cobra sports car underwent a major design modification of the front section, in late 1962, in order to change the steering from worm gear to rack and pinion, although there was still no power assisted steering.
     Unfortunately, however, the existing leaf spring suspension was retained at the rear.    
     The steering rack came from the MGB, while the steering wheel was sourced from the VW Beetle.
     Designated the Mark 2, this variant was introduced in early 1963.
     By the time production ended in the summer of 1965, a total of some 528 units of the Mark 2 AC Cobra sports car were built before the old AC chassis, upon which it was based, was finally discontinued.
     The 289 ci (4.7 litre) variant was complete master of the domestic scene in the US at that time, having only lost one race in the last three years.
     Each Cobra chassis received a CSX reference number which signified that it was an export model, meaning that it was shipped from the UK into the US, less engine and gearbox, where assembly was completed at Shelbys workshop.
     Beginning at 2000, the numbering reflected the order in which that unit was produced. Therefore, CSX2002 would follow the first production unit CSX2001.
     The Mark 2 was powered by a 289 ci (4.7 litre) Ford Windsor HiPo (High Performance) overhead valve engine, which developed 271 bhp at 5750 rpm, and 312 ft/lbs of torque at 4500 rpm.
     It was fitted with a single 4-barrel Holley carburettor, a four speed Borg Warner gearbox, and had a compression ratio of 11:1.
     This produced a top speed of 138 mph, with a 0-60 mph time of 5.4 secs, a 0-100 mph time of 13.7 secs, and a standing quarter mile time of 14.4 secs.
     The Holley 4-barrel carburettor was targeted more towards the street car, whilst the alternative four Webber twin choke setup was geared more for the track.
     In 1964, Shelby fitted a 390 ci (6.4 litre) Ford FE V8 engine into the Mark 2 CSX2196.
     However, owing to the fact that, at that time, resources were tied up on other projects, the car did not receive the development input it needed.
     As a result, when raced at the Sebring track in Florida, it performed poorly. 
                                                        Dragonsnake      Daytona     Corvette
Technical Data          289 Mark 2      289 Mark 2     289 Mark 2    Stingray
Production                1963-1965       1963-1965       1964-1965      1963
Engine, cc                      4727                4727                  4727           5340
Cylinders, bhp              8, 271              8, 385                8, 385         8, 360
Top Speed mph              138                  162                    190              142
0-60 mph, secs              5.4                     -                       3.9              5.9
Torque ft/lbs                 314                   341                    340             352
0-100 mph, secs           14.0                    -                       8.8             16.5
Standing 1/4, secs         13.8                 11.6                       -                -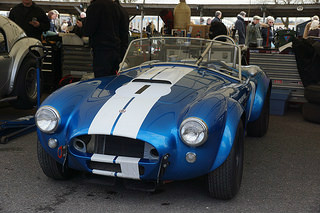 1964 AC Cobra
                                                      1964 AC Cobra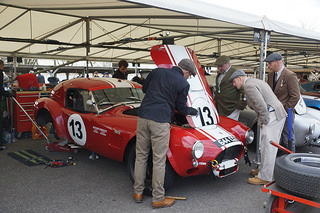 1963 AC Cobra Le Mans Coupé
                                                AC Shelby Cobra Mark 2
                                                   1965 AC Cobra
                                           1964 AC Shelby Cobra 289
                                              Shelby Daytona Coupe
                                                 Cobra Daytona Coupe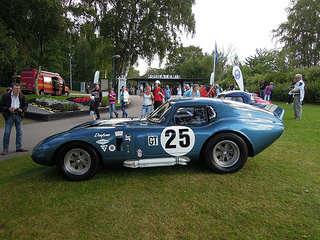 Cobra Daytona
                                                     Cobra Daytona
                                                 1964 AC Cobra 289
                                                                            Full Screen                                                                                                                               Full Screen
                                                                                                                  Full Screen                                                                                                                              Full Screen
                                                                                                                                  Full Screen
     In order to increase the top speed down the long straights at Le Mans, a total of six coupe variants were built, based on the leaf spring chassis and running gear of the Mark 2 AC Cobra sports car.
     The most famous and numerous of there were the works Shelby Daytona Cobra Coupe, which was powered by a 289 ci engine, with four Webber twin chokes, which developed 385 bhp at 6750 rpm, and 340 ft/lbs of torque at 4000 rpm.
     This produced a top speed of 190 mph, a 0-60 mph time of 4.0 secs, and a 0-100 mph time of 8.8 secs.
     Following the success of the Mark 1 AC Cobra CSX2026 at the Riverside track in Febraury 1963, Shelby offered an optional drag package.
     Designated the Dragonsnake Cobra sports car, with only five being built, this variant won a number of NHRA (National Hot Rod Association) events, notably with the Mark 2 CSX2093.
     Individual customers used the drag package to produce three of these Dragonsnake variants.
     Prior to the 1964 Le Mans race, a Cobra coupe was tested on the M1 motorway, and reached 186 mph.
     As a result, it was suggested that this incident was the reason for the 70 mph speed limit on British motorways to be introduced.
     The Mark 2 variant, incorporating the original chassis as used in the AC Ace, was phased out in 1965, when it was replaced by the Mark 3, which was fitted with a new chassis, and the ferocious 427 Ford V8 engine.
     The right hand drive 289 Cobras were available in mid 1963, but it was not until late 1964 that they were officially introduced onto the UK market. This model was also marketed in Europe.
     Although the Shelby Cobra was discontinued in 1967, AC continued to build the convertible Cobra, with coil spring suspension, but without flared wheel arches, and fitted with a Ford 289 engine.
     Called the AC 289 sports car, it was available in Europe until the latter part of 1968, although only 27 units were finally built.
     The 1965 289 AC Cobra represented the cars' pinnacle, when issues such as engine overheating, and handling aspects, such as steering quirks, had all been ironed out.
     In summer 1965, prior to the advent of the 427 variant later that year, the 289 represented the best performance sports car that money could buy.
     Handling was impressive and, in many ways, it was the nearest thing a buyer could get, in 1965, to a no holds barred race car experience.
     It was, in fact, a better proportioned car than the heavier 427 Cobra.
     As the last 289 Cobra sports car was built in 1965, Carroll Shelby may well have thought that this was the end of an era.
     However, over half a century later, how wrong he would have been since the 289 Cobra was a car that was never meant to die.    
SPORTS CARS FOR SALE
     A Continuation 1966 AC Cobra SC, CSX3060, in pristine condition was offered for £160,000/$260,000.
                                                 see All My Reviews
Home

›
AC Sports Car
› AC Cobra 289 Sports Car
                          Got an interesting Sports Car story  to tell?