The AC Cobra 427 Sports Car
                                       1992 DAX Cobra 427 Tojeiro 5.7       Image
                                           from Classic to Modern
Cobra On The Track
                                                    1965 AC Cobra                                                                                         Note the crash helmet bulge. Giving it plenty of                                                               welly whilst under test on the Goodwood circuit.                                                                                           Very tasty
     Even though the 289 AC Cobra sports car had more than proved itself in competitions, by the mid 1960's, it was obvious that it needed updating.
     Each year, in order to remain competitive, output had to be increased, which was not helped by the fact that the 289 engine's reliability peaked at around 390 bhp.
     Since the Corvette Stingray was likely to be fitted with a 396 or 427 engine, Shelby realised that what was needed was a Cobra with even more power.
     In 1964, Shelby fitted a 390 ci (6.4 litre) Ford FE V8 engine into the Mark 2 AC Cobra CSX2196. It was then raced at Sebring where it performed poorly.
     What was needed was further development of the car and, at this point, Ford stepped in to offer its facilities.
     By 1965, the extra power was provided, in the CSX3000 Series, by the 428 V8 engine on a frame whose width had been increased by five inches.
     Although still based on that of the AC Ace sports car, the chassis was redesigned and strengthened using four inch rather than the previous three inch tubing, and four wheel independent coil spring suspension was installed together with larger brakes.
     The body was updated with flared wheel arches to take into account a wider track and larger tyres, and the size of the grille was increased, and contained a straight bar which replaced the previous honeycomb style.
     Finally, now designated the Mark 3, it was powered by the 427 ci (7.0 litre) Ford Windsor V8 engine which developed, in its standard form, 425 bhp at 6000 rpm, and 480 ft/lbs of torque at 3700 rpm, and with a top speed of 164 mph.
     It had a compression ratio of 11.5:1, and was fitted with a single 4-barrel Holley carburettor.
     On the other hand, the competition variant, using the same engine, developed 550 bhp and 482 ft/lbs of torque, with a top speed of 190 mph.
     Prototypes of the two variants were sent from AC in the UK in October 1964, as rolling chassis without paint, for final assembly in Shelby's workshop in the US.
     The first Mark 3 AC Cobra sports car was built on 1st January 1965.
     Under FIA regulations, to be able to qualify as a production car in the GT class, it was necessary to build at least 100 units.
     Prior to the 1965 FIA World Manufacturers Championship homologation (being certified to race), Shelby was quite sure he could sell that number, and ordered them to be air shipped from AC to his workshop.
                                                         Semi
Technical Data          Standard   Competition   Competition Supersnake
Production                    1965            1965               1965           1966
Engine, cc                     6997            6997               6997            6997
Cylinders, bhp             8, 420          8, 485             8, 550          8, 800
Top Speed mph             165              186                 190              200+
0-60 mph, secs             4.2               3.8                  3.6                3.2
Torque ft/lbs                480              482                 482                 -
0-100 mph, secs          10.3              9.7                  9.5                 -
Standing 1/4, secs        12.4             12.0                11.8                -
                                                   1966 AC Cobra                    Image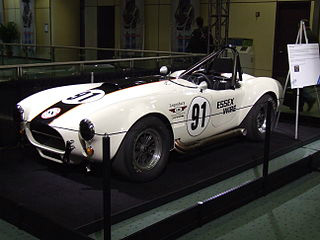 AC Cobra 427 Competition variant      Image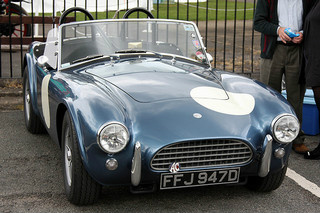 1966 AC Cobra                    Image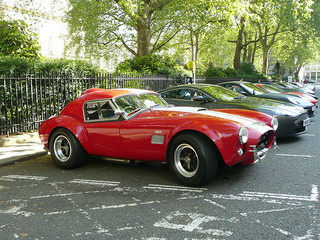 1966 AC Cobra Mark 3                 Image
                                    Genuine AC Cobra parked in the rain
                                                         Full Screen                                                                                                                                 Full Screen
                                                                                                                                  Full Screen
     Hence, a competition version of the new 427 Cobra sports car was created.
     However, in late April 1965, the inspectors only found 51 completed cars, and therefore withheld Shelby's much needed homologation.
     The order for the outstanding cars was now cancelled but, by now, 53 competition chassis were about to be sent from AC (CSX3001 to CSX3053).
     However, 16 competition variants were then sold to private race teams, 2 were retained as prototypes, and 1 was sent to Ford.
     This left 34 chassis which were then painted, fully assembled, and marketed under the title "The meanest road car ever built".
     All were sold and, in the process, a new classification was born, that of the AC Cobra 427 S/C, which meant semi-competition.
     Apart from the 34 S/C's, and 19 full competition cars, only 290 road going versions of the 427 were built.
     The competition variant differed from the road going 427 Cobra as follows:
Wider body to accommodate wider wheels and tyres
Heavy duty front and rear brake calipers
External fuel filler and fuel pump booster
Front and rear jacking points
Roll bar
Magnesium intake manifolds
Aluminium cylinder heads
Oil cooler
Rear differential cooler
Side exhaust without baffles
     Surprisingly, the AC Cobra 427 sports car did not sell well and, in order to reduce costs, most of the Mark 3's were actually fitted with the less expensive 428 ci Ford V8 engine.
     This unit, with a longer stroke and narrower bore, was scheduled for use in road cars and not for racing.
     Between 1965 and 1966, when production ended, a total of 343 units of the Mark 3 were shipped to Shelby for assembly into both the standard and competition variants.
     Although the Mark 3 was not allowed to race in 1965, on the other hand, it was raced successfully by individuals throughout the 1960's and well into the 1970's.
     In the end, the AC Cobra was a financial failure, with the result that Ford withdrew its support causing Carroll Shelby to discontinue the import of rolling chassis from AC in the UK in 1967.
     In 1984, AC themselves went out of business, and the tooling and rights to the name were sold to Autokraft, a Cobra parts distributor and manufacturer of classic cars.
     Despite its image, the original AC Cobra was built in extremely low quantities.
     Of a total of 998 built between 1961 and 1968, 655 were the 289 Cobras with leaf springs, and 343 were the 427 Cobras with coil springs.
     This number included both road cars, competition, and semi competition cars.
     In 1968, it was Carroll Shelby who sold the very final 427 Cobra sports car.
The 427 Supersnake
     In 1966, the Shelby Cobra Supersnake sports car was introduced. Only two were ever built, and one of them was assigned specifically to Carroll Shelby.
     The other car was acquired by comedian Bill Cosby, but was later written off in a crash by another driver.
     The Supersnake was powered by a 427 ci Ford Windsor V8 engine, developing 800 bhp, and fitted to a three speed automatic gearbox, and two Paxton superchargers, which produced nearly twice the output of a standard 427 Cobra.
     It was, in fact, a race car that had been modified suitable for use as a road going sports car by the addition of standard exhaust system, bumpers, etc.
     In 2007, the 427 Supersnake used by Carroll Shelby was sold at auction for $5.5 million, the most that had been paid for a car in the US.
SPORTS CARS FOR SALE
     A 1966 Continuation AC Cobra 427SC, SCX3060, was offered with a price tag of £160,000/$260,000.
                                                see All My Reviews
Home

›
AC Sports Car
› AC Cobra 427 Sports Car
                            Got an interesting Sports Car story  to tell?