The AC Greyhound Sports Car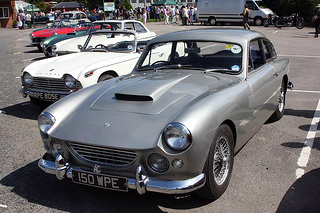 1962 AC Greyhound               Image
                                           from Classic to Modern
     The AC Greyhound sports car, was launched in 1959 and, at first sight, somewhat resembled an enlarged Aceca, even though it was a totally redesigned model.
     In 1958, the dated two and four seater AC 2-Litre saloon was finally discontinued, at which point it was realised that what was now needed was a sporty family four seater. Hence the Greyhound.
     It had a new, square tubular chassis, and was both lighter and slightly small er than the 2-Litre saloon, and was not short of internal luxury. Interestingly, the front/rear weight distribution was 50/50.
     The prototype Greyhound was premiered at the 1959 London Motor Show, where its body styling was not well received.
     However, this was addressed in the production version, which included a wrap around rear window, and a smaller front grille.
     Launched later in 1959, the AC Greyhound was a two door, fixed head 2+2, with links to the AC Ace and Aceca. Its features included:
Body panels were made of aluminium
Steel chassis in a ladder frame fomat
All round independent suspension using coil springs
Four speed gearbox with an optional overdrive on the top three gears
Rack and pinion steering replacing the previous worm gear
11.75 inch front disc brakes and 11 inch rear drums
Technical Data                            Greyhound
Production                                   1961-1963
Engine, cc                                         1971
Cylinders, bhp                                 6, 130
Top Speed mph                                 115
0-60 mph, secs                                 9.0
Torque ft/lbs                                    128
0-100 mph, secs                              29.8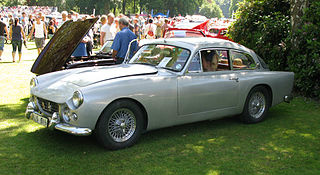 1962 AC Greyhound               Image
                                                                                                  Full Screen
     A variety of straight 6-cylinder engines were used over the life of the Greyhound, and included:
From 1959 to 1961, AC's own 1991 cc, overhead cam unit developing 80 bhp at 4500 rpm initially, which later increased to 100 bhp
From 1961 to 1963, a 1971 cc, D-Series overhead valve unit from Bristol Cars which developed 130 bhp at 5750 rpm
From 1961 to 1963, as an alternative, a 2216 cc unit from Bristol Cars which was a slightly detuned B-Series version developing 105 bhp at 4700 rpm
From 1961 to 1963, as another alternative, a 2553 cc Ruddspeed tuned Ford Zephyr unit, developing up to 170 bhp at 5500 rpm, depending upon the level of tuning
     The 1971 cc Bristol powered Greyhound, built between 1961 and 1963, and fitted with an overdrive unit, produced a top speed of 115 mph, with a 0-60 mph time of 9.0 secs, and an overall fuel consumption of 22 mpg.
     Production ended in 1963 when a total of 83 Greyhounds had been built, of which three were constructed with left hand drive.
     Its lacklustre sales performance was due in part to the lack of an adequately powerful engine, coupled with indifferent road test reports.
     Of the 83 Greyhounds, the vast majority were fitted with the straight 6-cylinder Bristol engine in either the 2 litre or 2.2 litre versions.
     In fact, records have shown that only three Greyhounds were powered by the 2.6 litre Ford Zephyr engine. 
                                              see All My Reviews
Home

›
AC Sports Car
› AC Greyhound Sports Car
                           Got an interesting Sports Car story  to tell?