The AC 428 Frua Sports Car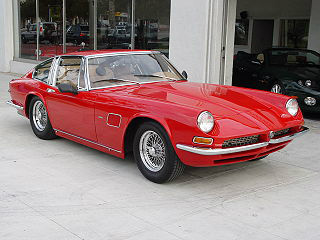 AC 428 Frua
                                              from Classic to Modern
     The AC 428 Frua sports car, also known as the AC Frua, was introduced in 1965, and was based on the chassis from the AC Cobra 427 Mark 3 that had been increased by six inches.
     It was available as both a fixed head coupe and a convertible.
     The body consisted of steel panels, and was attached to a chassis which incorporated four inch tubing, and four wheel independent coil spring suspension.
     However, since the chassis's design was quite intricate, it had a tendency to rust. Interestingly, both the bonnet and boot lid were constructed from aluminium.
     A problem in the construction of the Frua was that the rolling chassis was built in the UK by AC, and then shipped to a workshop in Italy where the body was added.
     At this point, the partially assembled car was shipped back to AC who then completed the assembly work by fitting the engine, gearbox, and trim.
     This long-winded process was very costly, which led to the fact that pricing tended to be uncompetitive.
     Owing to the lack of financial resources, AC was unable to fully develop the Frua, which suffered from a number of problems.
     The most acute was that heat from the V8 engine tended to cause a great deal of overheating in the cabin, a problem not uncommon in previous AC models.
    The 428 Frua sports car was designed by Pietro Frua of Turin, from which it derived its name, and it displayed a striking similarity to the Maserati Mistral, styled by the same designer.
    The Frua was a serious competitor to the Jensen Interceptor and Aston Martin, and it could more than hold its own with many exotic European cars, such as Ferrari, Lamborghini, and Maserati, and with a more modest price tag.
                                     AC           Jensen   Aston Martin   Maserati
Technical Data                  Frua        Interceptor        DB6           Mistral
Production                   1965-1973        1969            1965            1966
Engine, cc                         6997             6277            3996            3694
Cylinders, bhp                 8, 345           8, 325          6, 282           4,518
Top Speed mph                  141              140               150              152
0 -60 mph, secs                 6.2               7.0                 6.1              6.5
Torque ft/lbs                     462              425                280             275
0-100 mph, secs              14.6             14.5                14.5            16.0
Standing 1/4, secs            14.3             14.2               16.0             14.8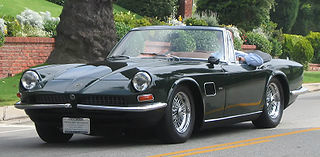 AC 428 Frua                  Image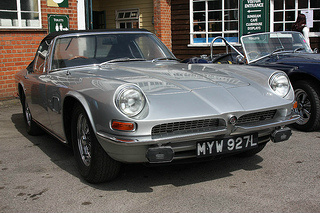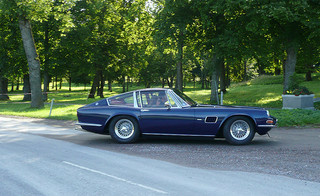 1967 AC Frua
     The AC 428 Frua sports car was powered by a 428 ci (7 litre) big block, Ford FE V8 engine, fitted to an Autolite or Holley 4-barrel carburettor, and using an iron cylinder block.
     An alternative engine was also used on some units, and consisted of the classic 427 ci Ford Windsor V8, as used in the Cobra.
     The 428 unit developed 345 bhp at 4600 rpm, and 474 ft/lbs of torque at 2800 rpm, with a top speed of 141 mph, and a 0-60 mph time of 6.2 secs.
     On the other hand, the 427 unit developed 385 bhp at 5600 rpm, and 460 ft/lbs of torque at 3200 rpm, with a top speed of 152 mph, and a 0-60 mph time of 5.4 secs. Both had a compression ratio of 10.5:1
     Although the 428 coupe had fairly impressive performance figures, it was let down by the price of £5,573, more than twice that of one of its competitors, the E-Type at £2,225.
     The Frua was fitted with:
Limited slip differential
Either a four speed full synchromesh Ford Toploader manual gearbox, or a three speed Ford C6 automatic gearbox
Rack and pinion steering
Four wheel Girling servo assisted disc brakes
     Before production finally ended, two prototypes to extend the range were built including:
A four door version of the fixed head coupe 
A more aerodynamic version of the convertible, which even sported electrically operated headlights that popped up, reminiscent of the Lotus.
     However, neither reached production owing to the parlous state of company finances at that time.
     Production ended in 1973 when a total of 81 units were built, made up of 49 fixed head coupes, 29 convertibles, and 3 units fitted with a special body.
     Production of the AC Frua sports car was limited by the throughput of the Italian coachbuilder, and the availability of Ford engines.
     In the end, it was the energy crisis of 1973 that finally heralded its demise.
SPORTS CARS FOR SALE
     A 1965-72 AC 428 Frua in excellent condition could command in the region of £125,000/$200,000
                                                see All My Reviews
Home

›
AC Sports Car
› AC 428 Frua Sports Car
                           Got an interesting Sports Car story  to tell?