The Aston Martin DBR1 Sports Car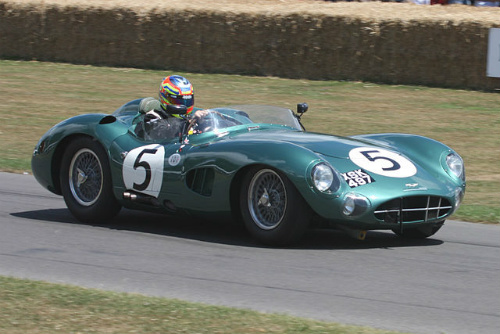 1957 Aston Martin DBR1/2            Image
                                          from Classic to Modern
THE CAR
     The race rules for sports cars were changed in 1956 so that they no longer had to be road legal to qualify for entry to the track.
     This meant that Aston Martin (and others) had a free hand in the future design of racers, and so work could begin on the creation of the DBR1.
     Using the DB3S as a basis, a new lightweight space frame chassis was created, and to it was added the suspension and disc brakes from the DB3S.
     Designated the DBR1/1, it was powered by a new all-aluminium 2.5 litre, straight six, racing engine, based on the 2.6 litre Lagonda straight six used in the DB2.

     The car made its debut at Le Mans in 1956, where is was forced to retire due to gearbox failure.
     However, following various changes, it took second place in two events as part of the 1957 World Sports Car Championship.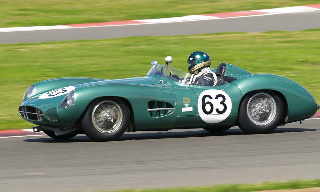 Aston Martin DBR1                 Image
THE ENGINE
     Later in 1957, DBR1/1 and the identical DBR1/2 were fitted with a 3 litre updated version of the 2.9 litre engine from the DB3S, which developed 255 bhp at 6250 rpm, and was capable of 165 mph.
     With a compression of 9.3:1, it was fitted with three Weber twin choke carburettors, an aluminium block and head, Girling disc brakes all round, and a five speed manual David Brown gearbox.
     Using magnesium body panels on a chrome-molybdenum multi-tubular chassis, the car weighed only 800 kg.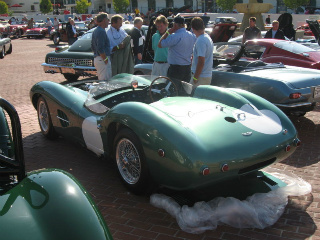 Aston Martin DBR1                 Image
THE TRACK
1957
     In 1957, both DBR1/1 and DBR1/2 were victorious in the Spa Three Hour race and the Nurburgring 1000 km race, but the two failed to finish in that years Le Mans.
     One noticeable weakness of the DBR1 was its own DB gearbox which was known to be extremely fragile.
     Subsequently, in 1959, Stirling Moss was impressed when driving a DBR1, in practice, fitted with a Maserati five speed unit, which overcame the fragility problem.
                                                                                          Full Screen
1958
     In 1958, in order to counter competition fitted with more powerful engines during sprint events, Aston Martin developed the DBR2 sports car, which was powered by a newly designed 3.7 litre, straight six unit from the Aston Martin DB4, and used in non-championship races.
     With the addition of the variant DBR1/3, this car won the 1958 Nurburgring 1000 km race at the hands of Stirling Moss.
     However, once again, the three DBR1's were unable to finish in that years Le Mans.
     In the Tourist Trophy race at the end of 1957, the three DBR1's finished in first, second, and third positions, allowing Aston Martin to finish second in the Constructor's Championship, behind Ferrari.
                                                                                         Full Screen
1959
     In 1959, DBR1/4 and DBR1/5 were completed, and one of the DBR1's, driven by Stirling Moss, again won the Nurburgring 1000 km race.
     Ultimately, the DBR1's zenith was when DBR1/2, driven by Carroll Shelby and Roy Salvadori, won the 1959 Le Mans 24 Hour race, with DBR1/4 taking second position.
     Later that year, DBR1/2 won the Tourist Trophy, with DBR1/4 taking fourth place, which was sufficient for Aston Martin to pass Ferrari and win the 1959 Constructor's World Championship.
     This was the only time Aston Martin ever won this accolade.
     By the end of 1959, when production of the DBR1 ended, just five of these cars had been built, designated DBR1/1-5.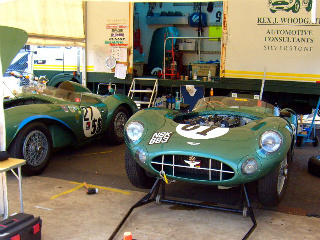 Aston Martin DBR1/2                Image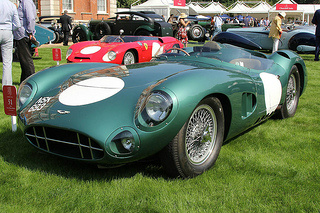 Aston Martin DBR 1/4               Image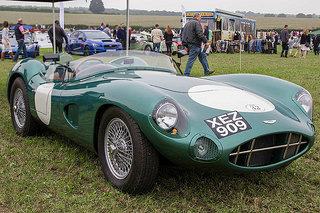 Aston Martin DBR1 Replica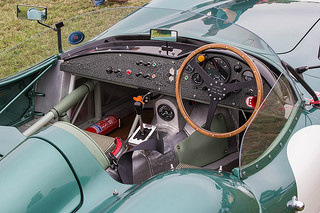 Replica Interior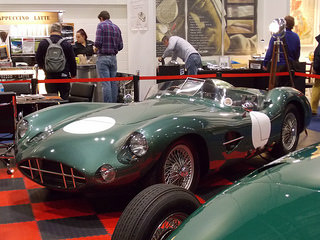 DBR1
                                                                                         Full Screen
Technical Data               DBR1/1-5        DB3S              DB3          DB2/4 Mk3
Production                     1956-1959   1953-1956   1951-1953    1957-1959
Engine, cc                           2992            2922            2922               2922
Cylinders, bhp                   6, 255          6, 210           6, 165            6, 178
Top Speed mph                       165                140                 135                   122          
COMPETITION
     Chief amongst the competitors of the Aston Martin DBR1 were the following: Jaguar D-Type, Maserati 450S, Ferrari 250 LM, and Alfa Romeo Tipo 33 Stradale
                                                   Jaguar     Ferrari    Maserati      Alfa Romeo
Technical Data      DBR1/1-5    D-Type    250 LM      450S     Tipo 33 Stradale
Production               '56-'59       '54-'57     '63-'66      1958           '68-'69
Engine, cc                 2992           3442         3286       4477             1995
Cylinders, bhp         6, 254         6, 250      12, 315    8, 414           8, 227
Top Speed mph         165             160           183         186               162           
SPORTS CARS FOR SALE
     The current estimated value of a DBR1/1 is £100,000.
                                                   see All My Reviews
Home

›
Aston Martin Sports Car
› Aston Martin DBR1 Sports Car