The Aston Martin DP212 Sports Car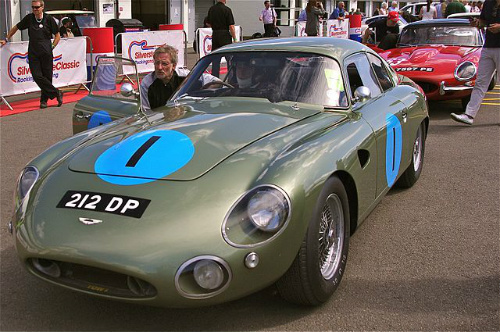 1962 Aston Martin DP212                                Image
                                          from Classic to Modern
     Following the creation of a new GT Class for sports cars in 1962, Aston Martin hurriedly developed a prototype, designated the DP212, to race in the 1962 Le Mans 24 Hour race.
     Based on the existing DB4 GT, it used a magnesium alloy streamlined body on a steel box frame chassis which gave it a curb weight of 980 kg. It used Girling disc brakes all round.
     The DP212 was powered by a front-engined aluminium, 4 litre, straight-6 unit that developed 330 bhp at 6000 rpm, and 287 ft/lbs of torque at 5300 rpm.
     Fitted with a DB five speed manual all synchromesh gearbox, three twin choke Weber carbs, and a 9.6:1 compression, it produced a top speed of 167 mph.
     In the hands of Graham Hill, it had to retire after 79 laps due to a blown piston in the 1962 Le Mans race.
     To make matters worse, it had stability problems when coping with the high speed of the Mulsanne straight.
     This shortcoming was overcome by altering the rear section to include what was referred to as a "Kamm Tail".
     However, whilst in practice for the 1963 Le Mans, the car was simply not fast enough, and so withdrawn.
     Only a single DP212 sports car racer was ever built, and was succeeded by the redesigned and modified Aston Martin DP214.  
                                                 see All My Reviews
                                               Aston Martin DP212