The Morgan 4/4 Series 2 Sports Car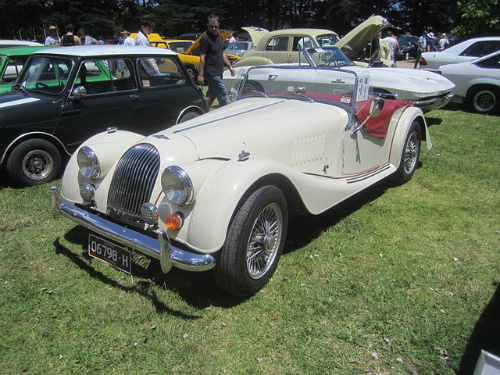 Morgan 4/4 Series 2
                                             from Classic to Modern
     The two seater Morgan 4/4 Series 1 sports car was discontinued shortly before the launch of the Plus Four in October 1950
     It had been in continuous production since 1936, and was only phased out because the 1267 cc Standard Special engine was itself being discontinued in 1949.
     The Plus Four was, essentially, the Series 1 with a 2138 cc Triumph engine in place of the Standard Special unit.
     However, just over four years later, in 1955, the 4/4 was reintroduced as the two seater Morgan 4/4 Series 2.
     It was a somewhat basic model, powered by a 1.2 litre, Ford 100E side valve engine, as used in the Ford Anglia and Prefect saloons, linked to a rather ancient Ford three speed gearbox, not at all suitable for such a car.
     It looked and drove much like the Series 1, and retained the sloping grille, the elementary weather protection, and the hard ride due to the stiffened front coil springs.
     The Ford engine developed 36 bhp and a torque of 54 ft/lbs, had a compression ratio of 7:1, and used a single Solex carburettor.
     Although the front suspension retained the rather outdated sliding pillar system, it had now been fitted with rack and pinion steering.
     According to Morgan, the introduction of the Series 2 was to provide a sporty convertible for the enthusiast with limited means.
     In a later review of the car, it was pointed out that:
Performance was somewhat lacking
Getting in and out of the car was not easy
The soft top mechanism was rather irksome
There was a lack of room for any luggage
Technical Data                      4-4 Series 2               4-4 Series 1
Production:                            1955-1960             1936-1939 model
Engine cc                                    1172                            1172
Cylinders, bhp                            4, 36                            4, 38
Top Speed mph                            75                                 80
0-60 mph, secs                          26.9                              28.4 
                                                                                                    Full Screen
     The body styling was much like that of the Plus Four, the only difference being that the body was lower and simpler, with a sloping rear that housed a single spare wheel in a recessed compartment, unlike the two spares of the Series 1.
     Although it looked similar to its predecessor, the 4-4, it now utilised the same chassis as that used in the Plus Four.
     Other features included:
Disc wheels were standard equipment
It used hydraulic brakes with 9 inch drums all round
The gearbox linkages were improved
It used a bench seat
There were rubber coverings on the floor
     Optional extras were;
Leather seating
A heater
Rev counter
And, amazingly, turn indicators
     The Series 2 was produced between 1955 and 1960, in which time 387 units were built.
     In order to make up for the shortcomings in terms of performance, in 1957, the 4/4 Series 2 Competition model was introduced.
     This featured an Aquaplane aluminium cylinder head linked to two SU carburettors, and developed 40 bhp.
     Between 1957 and 1960, when production ended, 38 units of the Series 2 Competition model were built, consisting of 37 two seater variants, and one experimental four seater version.
SPORTS CARS FOR SALE 
     A 1957 Morgan 4/4 Series 2 in excellent condition following a full restoration was suitably priced at £25,000/$40,000.
                                              see All My Reviews
Home

›
Morgan Sports Car
› Morgan 4/4 Series 2 Sports Car
                             Got an interesting Sports Car story  to tell?