Sunbeam Alpine Series 3 Sports Car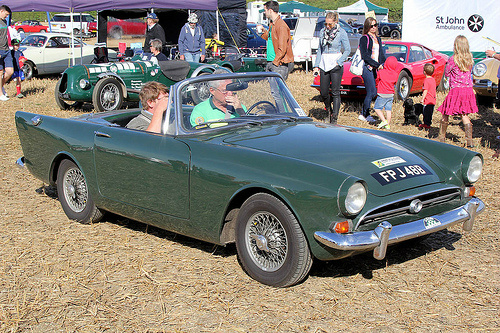 Sunbeam Alpine Series 3
                                          from Classic to Modern
     The Sunbeam Alpine Series 2 sports car was phased out In February 1963. This new model was the most refined version to date, and incorporated a number of changes, including:
Design of the windscreen was improved
Doors were fitted with quarter windows
Rear quarter windows that could be opened were added to the redesigned steel hardtop
Modifications to the soft top
New adjustable bucket seats
Steering wheel was now adjustable, both forwards and backwards, by up to 2.5 inches
Two speed windscreen wipers
Larger front disc brakes and telescopic shock absorbers
Gearbox had closer gear ratios
Walnut veneered dashboard facia
Wood rim steering wheel
Tailored carpeting
Door opening courtesy light 
Cross flow radiator replaced by a vertical flow version with an integral header tank
Larger diameter anti roll bar
Vacuum servo assisted brakes as standard
Positions of clutch and brake pedals could now be adjusted
Both soft top and redesigned hardtop models produced an increase in headroom of one inch
Passenger padded grab handle 
Screen washers and a headlight flashed were added
A Laycock de Normanville overdrive, operating on the top two gears of the four speed gearbox, was offered as an optional extra
     An important change related to the single fuel tank, which was now replaced by two interconnected 6.75 gallon tanks, that increased overall fuel capacity, and were positioned inside each rear wing.
     In this way, the spare tyre could be fitted vertically behind the rear compartment, so providing increased luggage space.
     The two Stromberg carburettors, from the Series 2, were replaced by a Solex twin choke unit with a large, single, air cleaner.
     This arrangement, together with a cast iron exhaust manifold, resulted in a reduction in the power output and torque generated, from 80 bhp and 94 ft/lbs respectively to 77 bhp and 92 ft/lbs.
                                                   Alpine              MGB MK1            TR3A
Technical Data                           Series 3
Production:                             1963-1964         1962-1967       1957-1962
Output                                          5,863              101,222             13,377
Engine cc                                      1592                  1799                 1991
Cylinders, bhp                              4, 77                  4, 94                 4, 95
Top Speed mph                              98                     104                   105
0-60 mph, secs                            14.9                    12.5                 10.8
Fuel consumption                          25                       27                     26
(overall)                                                                                                               Standing 1/4 mile                         19.8                   18.8                  18.1
                                                                                                  Full Screen
     The single model from the Series 2 sports car was now replaced by two models in the Series 3 - a convertible, now called a "Sports Tourer", and a new "Grand Tourer" which sported a removable hardtop containing a large backlight.
     Although a soft top was not included with the GT, a tonneau cover was available.
     The principal benefit of the GT version was that an upholstered occasional rear seat took the place of the space taken up by the folded soft top.
    The GT's hardtop was more angular than that previously available, and the doors now had leading edges with square rather than previously rounded edges.
     The resulting benefit was that complaints relating to draughts, created by the previous hardtops, could be eliminated.
     Comparing the two Series 3 models, the cheaper convertible could always have an additional hardtop added, whilst the GT had the benefit of the extra space behind the two seats.
     By now, the Alpine was developing a favourable reputation in respect of its ride qualities, finish, and delux interior.
     However, its principal detraction was its increasing lack of performance.
     Further, in terms of competition, by 1963, its main competitor, the MGA, had been superseded by the MGB, with its 1.8 litre engine developing 95 bhp and 100 ft/lbs of torque. This was something that needed to be addressed.
     Rootes Group was aware of developing changes in the sports car market brought about by more crowded roads and a greater emphasis on creature comforts.
     This was manifesting itself in the growing transition towards sporty saloons, such as the Mini Cooper S, which offered comparable performance together with increased seating/luggage capacity.
     The original wedge shaped design of 1959, with its pronounced fins was, by now, becoming dated.
     Accordingly, the rear wing design was set to follow the new styling characterised by the Hillman Minx saloon.
     Production of the Sunbeam Alpine Series 3 sports car was finally ended in January 1964, when 5,863 units had been built.
     However, it was immediately replaced by the series 4, whereby some of the shortcomings of the Series 3 would be rectified.
SPORTS CARS FOR SALE
     A 1963-64 Sunbeam Alpine Series 3 in really good condition would fetch in the region of £8,000/$13,000. However, an example of this slightly rare variant in superb condition would command around £23,000/$36,000.
                                                see All My Reviews
Home

›
Sunbeam Sports Car
› Sunbeam Alpine Series 3 Sports Car
                                Got an interesting Sports Car story  to tell?