Sunbeam Alpine Series 1 Sports Car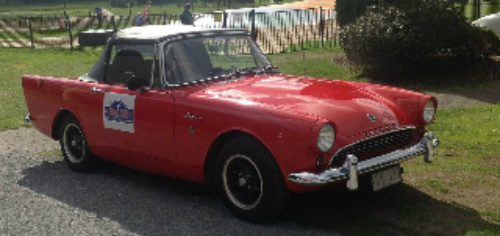 Sunbeam Alpine Series 1
                                            from Classic to Modern
     The Sunbeam Alpine Series 1 sports car. In the era following WW2, the mantra of most British car producers was to build sports cars that would sell in large numbers in the US market.
     The Sunbeam Alpine Mark 1 and 3 was produced between 1953 and 1955, in which time a total of 1,582 units were built.
     However, even though it was, in essence, simply a modified saloon car, people were still buying it.
     As a result, the head of Rootes Group realised that, if they were to offer a custom built sports car, it would find an existing and eager market, especially in the US.
     He therefore directed that a new one was built with an emphasis on style, comfort, and performance.
     In order to minimise costs, the new Alpine was to use the maximum number of components possible from other models in the Rootes Group product range.
     Accordingly, it shared the same chassis and wheelbase with that used in the Hillman Husky, a two door estate car, but with the front track increased by 2.5 inches.
     The steel body was of a monocoque construction, and incorporated the floorpan, underbody, and all the wheel arches from the Husky.
     The engine, clutch, and gearbox were the same as those used in the Sunbeam Rapier saloon.
     However, the original cylinder head from this 1.5 litre, overhead valve engine was replaced with one made of aluminium which allowed the compression ratio to be increased from 8.5 to 9.2:1.
     Combined with two Stromberg carburettors fitted to an alloy manifold, the three bearing crankshaft engine now increased output from 73 bhp of the Rapier to 78 bhp at 5000 rpm, and 89 ft/lbs of torque at 3400 revs.
     A Laycock de Normanville overdrive unit, a detachable hardtop, and wire wheels were all available as optional extras.
     It had a four speed, close ratio gearbox, and used Girling 9.5 inch disc brakes at the front, and 9 inch drums at the rear.
     The front independent suspension used coil springs with telescopic dampers and an anti roll bar, whilst the rear suspension used a live axle with semi elliptic leaf springs and lever arm dampers.
                                             Alpine                  Alpine                Talbot
Technical Data                     Series 1                 Mark 3            Mark 3(90)
Production:                        1959-1960          1954-1955        1954-1957
Engine cc                                1494                    2267                   2267
Cylinders, bhp                        4, 78                    4, 80                    4,80
Top Speed mph                        99                        91                       94
0-60 mph, secs                     13.6                      18.4                    17.4
Fuel consumption                    31                        24                        22
(overall)                                                                                                               Standing 1/4 mile                  19.8                      21.4                    22.2 
                                                         Full Screen                                                                                                                                   Full Screen
                                                                                                 Full Screen
     In terms of appearance, its low bonnet and rear wings created an appealing wedge shaped look.
     Some of its features included:
Two wide doors which made for easy access
The hood could be stored easily out of sight
Wind up windows were added in place of the perspex sliding side screens used in other convertibles
     From its launch in 1959 until 1962, Rootes Group subcontracted the assembly to Armstrong Siddeley Motors.
     In the end, the new model was seen as a marked improvement over its predecessor, the Sunbeam Alpine Mark 3.
     The Sunbeam Alpine Series 1 sports car displayed a certain resemblance to the classic 1955-1959 Ford Thunderbird, which was not surprising since its designers worked for Ford in Detroit before joining Rootes Group.
     The new Alpine made its first appearance in October 1959, and its performance was on a par with many of its competitors, including the larger engined Triumph TR3.
     It was a two seater convertible that also had an occasional rear seat facility.
     However, it still had to contend with stiff competition, in particular from its main rival, the MGA. 
     In fact, at the 1959 Motor Show, the MGA featured a larger 1588 cc engine developing 79 bhp, plus the addition of Lockheed disc brakes on the front.
     In 1960, Rootes introduced a limited edition, three door version of the Alpine, which was classified as a Shooting Brake.
     However, although it sported walnut trim and a leather interior, it carried a price tag twice that of the convertible.
     A total of 11,904 units of the Series 1 were built between October 1959 and October 1960, when it was replaced by the Series 2.
SPORTS CARS FOR SALE
     A 1959-60 Sunbeam Alpine Series 1 requiring complete restoration would be worth in the region of £4,000/$7,000.
                                                see All My Reviews
Home

›
Sunbeam Sports Car
› Sunbeam Alpine Series 1 Sports Car
                             Got an interesting Sports Car story  to tell?