The Jaguar XK140 Sports Car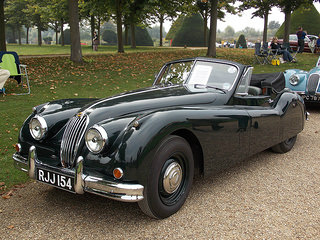 1955 Jaguar XK140                 Image
                                           from Classic to Modern
     The XK140 Jaguar sports car was, in essence, a further development of the XK120.
     Launched at the London Motor Show in 1954, it introduced a number of refinements to improve driveability. These included:
Rack and pinion steering replaced the recirculating ball system
The outdated lever arm dampers were replaced by the telescopic version
     The more powerful engine and stronger torsion bars preciously fitted to the XK120SE variant then became standard equipment on the XK140 sports car.
     The engine and bulkhead were moved three inches further forward in order to create sufficient additional space to fit a small occasional rear seat, something that was absent in the convertible variant.
     In terms of external appearance, the only change from the "120" was the addition of heavier bumpers and over riders, as used in the Mark 7 saloon, plus flashing indicators, which were activated from a switch on the dashboard, and were positioned above the rear bumper.
     In the centre of the boot lid there was a red emblem, presented in gold, commemorating "Winner of Le Mans 1951-3".
     Other changes in respect of the XK120 included:
The roof line of the fixed head coupe variant was raised by about 1.5 inches in order to create more internal space
More chrome and badges were present, including chrome strips down the middle section of the bonnet, and on the boot
A cast iron radiator grille with less, thicker slats, replaced the finer and more expensive previous arrangement
     Following on from the "120", the fixed head and drop head variants also had the dashboard and internal door coverings finished in walnut, whilst the equivalent in the convertible were finished in leather. Jaguar cars performance:
Technical Data                       XK140          XK140SE      Aston Martin DB3
Production                        1954-1957      1954-1957             1954
Engine, cc                                3442               3442                  2580
Cylinders, bhp                        6, 190             6, 210                6, 140
Top Speed mph                        120                  125                    131
0-60 mph, secs                         8.2                  8.0                     8.6
Torque ft/lbs                            203                 213                    144
0-100 mph, secs                     26.5                 22.1                   22.6
Standing 1/4 Mile, secs           16.4                 16.1                   16.7
                                                1955 Jaguar XK140                                                                              This beautiful Coupe (I love the colour) was                                                              taking part in the 2014 Capel Classic Car                                                                              & Bike Show in Surrey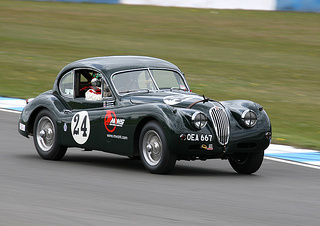 1955 Jaguar XK140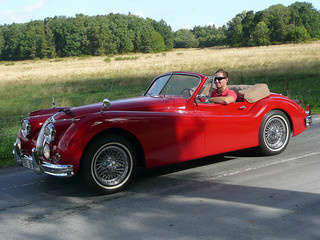 Jaguar XK140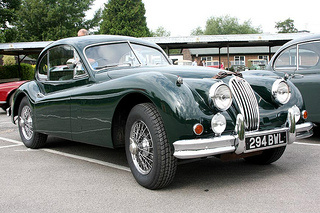 1954 XK140                  Image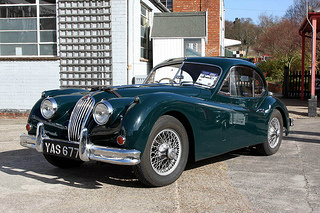 Jaguar XK140               Image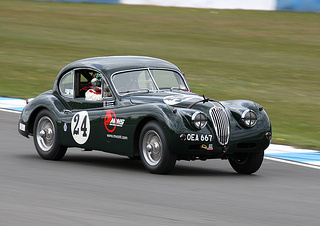 | | |
| --- | --- |
|                                                                                                              Full Screen |                       Start at 2.40             Full Screen |
     As with the XK120, there were three body styles available:
The two seater Convertible, with plastic side screens, a removable windscreen, a hood and tonneau cover
The 2+2 Drop Head Coupe, with a fixed windscreen, wind-up windows, and an attached canvas hood
The 2+2 Fixed Head Coupe had wind-up windows
    The XK140 Jaguar sports was powered by a 3.4 litre, straight 6-cylinder, twin overhead cam, XK engine fitted with two H6 SU carburettors, which developed 190 bhp at 5500 rpm, and 203 ft/lbs of torque at 3000 rpm.
     The was also a higher performance XK140SE variant, using the same engine, but fitted with two larger H8 SU carburettors and a "C" type aluminium head, which developed 210 bhp at 5750 rpm, and 213 ft/lbs of torque at 4000 rpm.
     All three variants featured:
Hydraulic drum brakes all round
A four speed gearbox with overdrive, whilst three speed automatic transmission was an optional extra
Independent coil spring suspension at the front and leaf springs at the rear
16 inch wheels
     The SE variant was also fitted with wire wheels, fog lights, overdrive, and an uprated exhaust system.
     When production ended in 1957, the output for each variant was: Convertible = 3350, Fixed Head Coupe = 2800, Drop Head Coupe = 2793
     This model was a further evolution in the range of Jaguar cars.          
SPORTS CARS FOR SALE
     A 1954-57 Jaguar XK140 in very good condition would fetch in the region of £75,000/$120,000 to £90,000/$145,000, whilst a really superb example would command around £120,000/$200,000.
                                               see All My Reviews
Home

›
Jaguar Sports Car
› Jaguar XK140 Sports Car
                            Got an interesting Sports Car story  to tell?