The MGB Mark3 Sports Car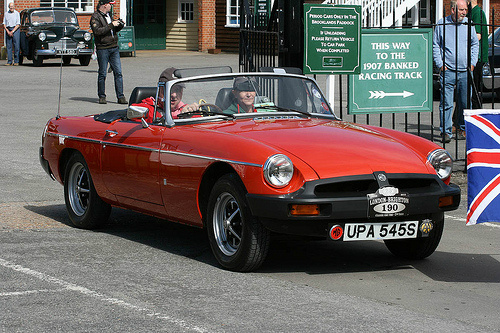 MGB Mark 3
                                           from Classic to Modern
    The MGB Mark 3 sports car was introduced in 1972 as a result of additional changes made to the car since the Mark 2 version ended in 1971.
1973
A more traditional, polished chrome radiator grille, containing a black honeycomb insert, was reintroduced
Servo assisted brakes and hazard warning lights were now standard equipment
The option of an automatic gearbox was withdrawn due to lack of demand
1974
MGB's exported to the US had their chrome bumper over riders replaced with even larger versions made of rubber
This was the last year of cars produced with chrome bumpers
Later that year, the chrome bumpers were dispensed with completely. In their place, at both front and rear, was a black rubber bumper strengthened with steel
1975
     As a result of additional US regulations relating to safety, the company found that the headlights on the MGB were too low.
     The obvious solution was to redesign the front of the car. However, for reasons of cost, the car's suspension was simply raised by an inch and a half.
     This change, in conjunction with the addition of black rubber bumpers strengthened with steel, resulted in a deterioration in the car's handling characteristics, producing excessive roll on hard cornering due to the increased height and weight.
     To make matter worse, the front anti roll bar was removed in order to reduce costs. Instead, it was offered as an optional extra.
The two SU carburettors were replaced by a single Stromberg unit in US export models
The Laycock-de-Normanville overdrive became standard equipment
     These changes affecting the handling of this sports car received a negative response from the market from which the car, and in some ways, the company never fully recovered. 
1976
     The aforementioned handling problems were addressed that year by the use of a thicker anti roll bar.           
1977
 An anti roll bar positioned at the rear became standard equipment
All engines were designed to run on unleaded petrol, and were therefore equipped with a catalytic converter
The camshaft was changed on US export models so reducing bhp still further
Cars exported to California, who were experiencing even tougher emission regulations, were fitted with Lucas electronic ignition
Cars fro the home market were now fitted with catalytic converters which had an adverse effect on their bhp.
Technical Data                  MGB Mk 3               TR4            TVR Grantura S3
Production:                      1972-1980         1961-1965          1962-1967
Output:                               173,870              40,253                   300
Engine cc:                             1799                   2138                   1622
Cylinder, bhp                        4, 83                  4, 105                  4, 91
Speed mph                            104                     110                      107
0-60 mph, secs                    13.6                    10.7                      9.6
MGB US                     BHP      Torque    Top Speed     0-60 secs
Technical Data
1962                          94         107             106              12.5
1968                          92         110             104              12.1
1973                          79          94                -                13.7
1976                        62.5         72               90               18.3
1979                        62.5         88               93               13.9
1980                         67           94               94               13.6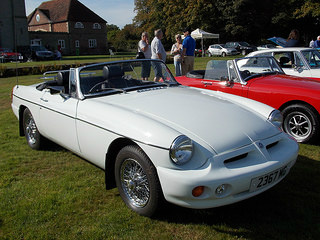 1975 MGB Roadster
                                                         Full Screen                                                                                                                                Full Screen
                                                                                                  Full Screen
     In 1968, BMC (the British Motor Corporation) was taken over by Leyland Motors to form British Leyland who tended to use, as many would agree, the least expensive and imaginative ways to satisfy US emission regulations.
     As a result, the MGB steadily lost bhp and became less attractive.
     As an illustration, by 1975, MGB's exported to the US only generated 62 bhp, compared with the 95 bhp at launch.
     Once the decision had been taken to end production of the MGB in 1980, a final batch of cars was designated the MGB LE, a limited edition of 420 convertibles and 580 GT's.
     These used various components that were still available in the factory, such as alloy or wire wheels, and an airdam, in order to finally stimulate sales which were now on a downward spiral.
     The convertibles were painted metallic beige, while the GT's were coloured pewter.
     The end of the MGB was probably influenced by the fact that, once British Leyland was in the driving seat, they tended to place a greater emphasis on the Triumph product range than that of MG.
     Consequently, the MGB went into the 1970's being able to make only minor changes despite the tough new US emission and safety regulations.
The Replacement?
     Subsequent to its launch, there were two projects put forward to consider the eventual replacement of the MGB even though, at the time, many felt that the original design was ageless.
     The first project, conceived in 1966, involved body styling by Pininfarina in which hydrolastic suspension was to be used, since it had been successfully tested on the BMC Mini.
     However, this idea was rejected.
     A second project, somewhat futuristic in concept, was considered in the early 1970's.
     This involved a mid engined car, using a 1750 cc unit from the Maxi saloon, incorporated within a modified MGB GT body.
     This too was rejected since it was felt it would use too few components from other BL cars, and would therefore be too expensive to produce.
     It is interesting to note that, even though the MGB was built for 18 years, the original body styling remained unchanged.
SPORTS CARS FOR SALE
     A 1972-80 MGB Mk3 in average condition would fetch between £3,000/$5,000 to £6,000/$10,000, whilst a really excellent example would command up to £11,000/$18,000.
                                                see All My Reviews
Home

›
MG Sports Car
› MGB Mark 3 Sports Car
                             Got an interesting Sports Car story  to tell?