Austin-Healey 3000 Mark 3 Sports Car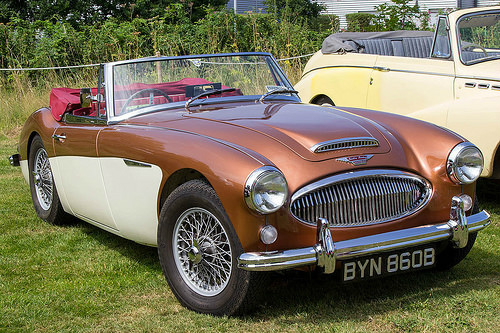 Austin-Healey 3000 BJ8 Mk 3
                                            from Classic to Modern
     The Austin-Healey 3000 Mark 2 sports car was phased out in October 1963 after a production run of two years in which a total of 11,564 units were built of the three Mark 2 variants.
     It was immediately succeeded by the Mark 3 which itself remained in continuous production until 1967.
     Unlike its predecessors, it was offered only as a 2+2 variant.
     Designated the BJ8 sports car, it was the most powerful and luxurious of all the Big Healeys, sporting:
A walnut veneer dashboard
Wind up windows
A soft top that could be raised from the inside with just one hand 
A wood rimmed steering wheel 
A centre console, positioned between the seats, incorporated a comfortable padded armrest
     Optional extras were much the same as those available with the Mark 2, and now included leather seats.
     An obvious change was that the interior trim was now made of Ambla vinyl.
     The BMC C-Series 2.9 litre, 6-cylinder engine was now fitted with a new camshaft, uprated valve springs, two SU HD8 carburettors, and a redesigned dual exhaust system.
     It had servo assisted brakes, which were now standard equipment.
     With a compression ratio of 9:1, it now produced 148 bhp at 5250 rpm, and 165 ft/lb of torque at 3500 rpm.
     This "Phase1" version of the Mark 3 sports car was produced from its launch in 1963 until 1964, when a total of 1,390 units were built. 
Austin-Healey
Technical Data             Mark 3 3000          Mark 2 3000       Mark 1 3000
Production:                    1963-1967             1961-1963         1959-1961
Output:                              17,712                   11,564                13,650
Engine: cc                            2912                      2912                   2912
Cylinder, bhp                     6, 148                     6, 132                 6, 124
Top Speed: mph                   121                        115                      114
0-60 mph, secs                    9.8                        10.9                     11.4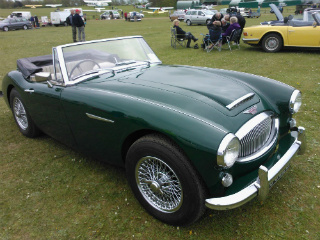 1964 3000 Mark 3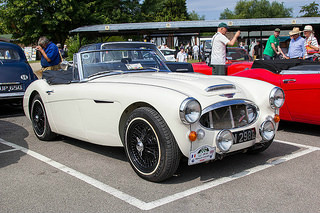 1964 Austin Healey 3000 Mk 3
                                         Austin-Healey 3000 BJ8 Mk 3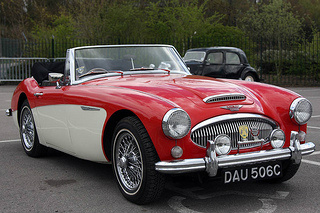 Austin-Healey 3000 BJ8 Mk 3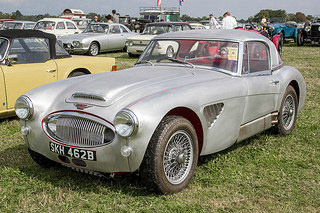 1964 Austin Healey 3000 Mk III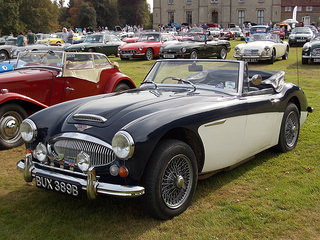 1964 Austin-Healey 3000 Mk 3
| | |
| --- | --- |
|                      Mark 3 Phase 1 |                       Mark 3 Phase 1 |
| | |
| --- | --- |
|                     Mark 3 Phase 1 |      Healey "Austin of England" Badge |
| | |
| --- | --- |
|                 Mark 3 Phase 1 -                     Single front light/turn indicator |                 Mark 3 Phase 2 -                        Two front light/turn indicator                      & single colour option |
                                                                                     Full Screen
     A "Phase2" version was introduced in May 1964 with a modified back axle and alterations to the chassis, which allowed increased suspension travel.
     A lowered frame allowed ground clearance to be increased by a full one inch.
     Other specifications included:
In March 1965, larger front and rear amber turn indicators, with individual lenses, became standard equipment
Four speed manual gearbox, with new gear ratios, and an optional overdrive unit
Oversize Girling front disc brakes whilst retaining rear drums
Engine start button used on previous models replaced by a key start
There was now an option to use either the existing two tone paint system or, for the first time, just a single colour for the body panels
Steering continued to use a cam and peg system
Stronger wheel hubs were added to improve handling
Push button door handles with external locks replaced previous pull handles
Height of rear suspension  increased
Softer rear springs added for a smoother ride
     However, by the mid 1960's, even the relatively plush Mark 3 was beginning to show signs of being a little old-fashioned.
     Even so, during 1966, a total of 5,494 Mark 3's were built, the highest one year production total to date.
     Unfortunately, by then, BMC had to contend with new US safety and emission regulations.
     As a result, it was decided that it would not be cost effective to modify the Mark 3 in order to satisfy these requirements.
     Therefore, sadly, production of the Austin-Healey 3000 sports car was brought to a close at the end of 1967 after a total of 17,712 units of the Mark 3 were built.
     The Mark 3 became a US export success since its aura of glamour and performance suited the mood of that market.
     The Big Healeys had a successful history in competitions, and competed at the major racing circuits, including Sebring in the US, Le Mans in France, and the Mount Pleasant circuit in Australia.
     BMC supported a works race and rally team, which was active from the early days of the Healey.
     However, the works team and their cars was disbanded in 1965 due, in part, to the up-and-coming success of the Mini Cooper S works team.
SPORTS CARS FOR SALE
     A 1963-67 Austin Healey 3000 BJ8 Mark 3 in good condition would fetch between £25,000/$40,000 and £30,000/$50,000, whilst an excellent example would command in the region of £45,000/$70,000 to £50,000/$80,000.
                                                  see All My Reviews
Home

›
Austin-Healey Sports Car
› Austin-Healey 3000 Mark 3 Sports Car
                            Got an interesting Sports Car story  to tell?