Austin-Healey 3000 Mark 1 Sports Car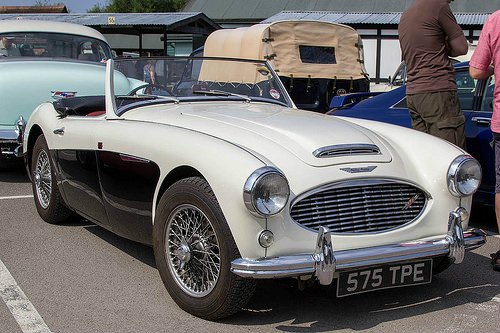 1961 Austin Healey 3000 Mk 1 
                                          from Classic to Modern
     The Austin-Healey 100/6 BN6 sports car was phased out in June 1959 after a short but successful run
     Its successor, the Austin-Healey 3000 Mark 1, was launched in March 1959 and was available as both a two seater, designated the BN7, and four seater 2+2 variant, designated the BT7.
     As was the case with the 100/6, the body panels were produced by Jensen Motors, whilst the assembly was carried out by BMC (British Motor Corporation) at their Abingdon factory.
     The transition from the 100/6 to 3000 models was part of a natural progression, and featured a number of improvements, such as:
Engine capacity was increased from 2639 cc to 2912 cc
Drum brakes on the front were replaced by Girling disc brakes
Front seats became adjustable
Wire wheels were now standard equipment
A factory hardtop was available as an optional extra, as was a laminated windscreen
     The Mark 1 sports car, referred to simply as the 3000, was never officially designated as such, and only received this classification following the launch of the Mark 2 in 1961.
     Compared with the changes accompanying the move from the 100/4 BN1 to the 100/6 BN6, those associated with the transition from BN6 to 3000 Mark 1 were fairly minor.
     In particular, the chassis and body remained unchanged.
Austin-Healey                                                                              6 Port
Technical Data                    Mark 1 3000               BN6                  BN4
Production:                           1959-1961          1958-1959       1957-1959
Output:                                    13,650                   4,150                  -
Engine: cc                                  2912                     2639               2639
Cylinder, bhp                            6, 124                   6, 117             6, 117
Top Speed: mph                          114                       111                 112
0-60 mph, secs                          11.4                      11.2                10.4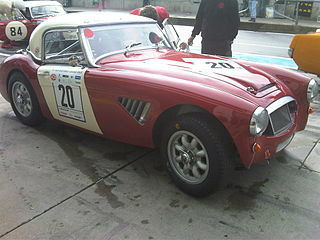 Austin Healey 3000 Mark 1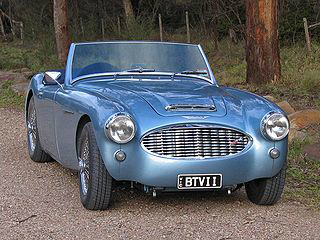 | | |
| --- | --- |
|                  3000 Mark 1 2+2     Full Screen |            3000 Mark 1 two seater  Full Screen |
                                                                                                   Full Screen
     The engine was a 2.9 litre, 6-cylinder, in line, overhead valve unit, with two valves per cylinder, and naturally aspirated using two SU carburettors.
     With a compression ratio of 9.03:1, it developed 124 bhp at 4600 rpm, with maximum torque of 162 ft//lb at 2700 rpm.
     It used a four speed manual gearbox which drove the rear wheels.
     There was independent front suspension, using coil springs, plus an anti roll bar, with semi elliptic leaf springs and a live axle at the rear.
     It retained drum brakes at the rear.
     Optional extras included overdrive, a heater, an adjustable steering column, and the two tone paint system.
     Throughout the fourteen years of production of the 100/4, 100/6 and 3000 models, only about 5,000 of the cars were built with right hand drive for the home market.
     This meant that some 90% of all production was exported to the US.
     Furthermore, Healeys built up to the Mark 2A version of the 3000 were still sporting such basic equipment as sliding side screens.
     With so few built for the UK market, it was inevitable that some would be imported back into the UK from America.
     As was the case, many had been rebuilt to race and rally specifications, rather than for road use and, as such, were often well used.
     On the other hand, the Mark 3 BJ8, the last model in the 3000 series, with its uprated trim, wind up windows, and an effective hood was the natural choice as a road car.
     Consequently, those Mark 3's that have returned to the UK have often been readily restored, whilst leaving a market opportunity for the earlier Mark 1 and 2 models.
     A total of 13,650 of the 3000 Mark 1 were built - 2,825 BN7 two seaters, and 10,825 BT7 2+2's.
SPORTS CARS FOR SALE
     A 1959-61 Austin Healey 3000 BN7 Mark 1, in good condition, would fetch around £30,000/$45,000, whilst an example in excellent condition would command anything between £45,000/$70,000 and £50,000/$80,000.
                                                 see All My Reviews
Home

›
Austin-Healey Sports Car
› Austin-Healey 3000 Mark 1 Sports Car
                             Got an interesting Sports Car story  to tell?