The Koenigsegg One:1 Sports Car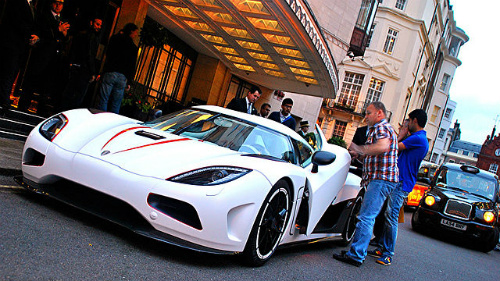 Koenigsegg Agera R                                   Image
                                           from Classic to Modern
     This 2014, Swedish sports car was a 2 door racer, with a planned production of just 7 cars, and priced at £2 million. It succeeded the Agera S of 2013.
     It was fitted with an in-house mid-engined, aluminium, 5.0 litre, DOHC, 32 valve, twin turbocharged, V8 unit that developed a staggering 1,340 bhp at 7500 rpm, and 1,011 ft/lbs of torque at 6000 rpm.
     With a 7 speed, dual clutch, paddle-shift gearbox, and a 9.2:1 compression, it produced a mind-boggling top speed of 281 mph, with 0-60 in 2.8 secs, 0-124 mph in 7.8 secs, and 0-248 mph in 20 secs.
     It had a carbon fibre and kevlar body on a carbon fibre chassis with an aluminium honeycomb monocoque, with a curb weight of 1360 kg, with carbon ceramic discs all round.
     It included a detachable hardtop, a traction control system, and an auto or manual electronically adjustable rear wing to maximise down force.
     All the cars were pre-sold prior to their debut.
                                                Koenigsegg One:1                            Image
                                                    see All My Reviews
                                                           .
                                                    Koenigsegg One:1