The Ferrari F430 Sports Car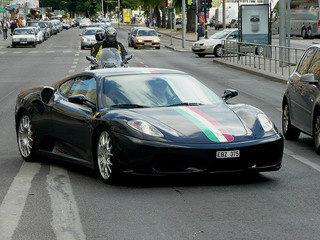 Ferrari F430                   Image
                                           from Classic to Modern
THE CAR
     The six year production run of the Ferrari 360 sports car finally came to an end in 2005.
     However, its successor, the two seater, mid-engined, Ferrari F430 was waiting in the wings, and was duly launched in 2004 at the Paris Motor Show. The entry level model had a price tag of almost $187,000.
     The F430's aerodynamic styling by Pininfarina had substantially increased down force compared with the 360 due, in part, to the addition of a spoiler underneath the front bumper.
     Air flow deflectors were added to the rear to increase the ground effect, so adding to the down force.
     There were two air intakes at the front linked to another spoiler channelling air to beneath the car.
     However, even with all these additions, the overall drag coefficient remained unchanged.
     The result was that the new car had an outward appearance noticeably different from that of its predecessor.
     It was fitted with Brembo discs all round, which were composed of an alloy whose constituents produced improvements in heat dissipation under heavy or prolonged braking.
     As an optioanal extra, composite ceramic discs, with much longer anti-fade characteristics, were offered as an alternative.
     The F430 sports car employed a computer activated limited slip differential unit, referred to as E-Diff, which automatically controlled the allocation of power to the wheels in accordance with prevailing road conditions.
     This feature was part of the Manettino monitoring system, where by the driver could select the control feature iportant at that moment in time, such as:
Electronically monitoring the suspension settings and traction control
Alter the speed of the F1-style gearbox
Adjust throttle response
Manage E-Diff
     It was available on both F1-style paddle shift or manual six speed gearbox models.
     The electronic differential E-Diff had been used in single-seater racers for many years and, on the track, it ensured maximum grip when cornering, so preventing wheel spin.
     The five-setting Manettino switch was widely used in racing, and both it and the red starter button were positioned on the steering wheel.
     The F430 used 19 inch wheels, and was fitted with Goodyear tyres specific to the car.
     Unlike the 360, the interior of the F430 sports car was designed to contain only necessary luxuries and features, which was part of a new minimalist approach by Ferrari.
     The car featured an aluminium body, chassis and engine, whilst the cockpit area had been increased, and offered excellent levels of passenger comfort, with sufficient space behind the seats for necessary essentials.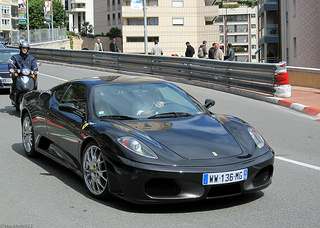 Ferrari F430                   Image
THE ENGINE
     The 360 was the last Ferrari V8 engine to be based on the design first enunciated with the race engines of the 1950's.
     Following Ferrari's acquisition of Maserati, the company designed a 4.2 litre, V8 engine specifically for Maserati.
     This was subsequently increased to 4.3 litre, with a longer stroke, which enabled it to rev higher.
     The new 4.3 litre, twin overhead cam, V8 engine, with a flat-plane crank, 11.3:1 compression, and based on the Maserati unit, developed 483 bhp at 8500 rpm (the redline), and 343 ft/lbs of torque at 5250 rpm, of which the greater majority was on tap at around 3500 rpm.
     In terms of performance, the F430 had a top speed of 196 mph, with a 0-62 mph time of 3.9 secs.
     Compared with the 360 engine, this represented 25% more torque, and a 22 % increase in output.
     In a departure from the 360 unit with five valves per cylinder, the F430 engine reverted back to the more conventional four valve layout.
     Additionally, it was fitted with a completely different crankshaft, pistons, and con rods.
     Even though the engine capacity was increased by 0.5 litre, it was only 4 kg heavier, and was actually slightly smaller, which increased its versatility.
| Technical Data | F430 | 360 | 355 |
| --- | --- | --- | --- |
| Production | 2004-2009 | 1999-2005 | 1994-1999 |
| Engine, cc | 4308 | 3586 | 3496 |
| Cylinders, bhp | 8, 483 | 8, 395 | 8, 380 |
| Torque ft/lbs | 344 | 275 | 268 |
| Top Speed mph | 196 | 189 | 183 |
| 0-60 mph, secs | 3.9 | 4.2 | 4.7 |
| 0-100 mph, secs | 8.3 | 10.3 | 11.3 |
| Standing 1/4 Mile, secs | 11.9 | 13.0 | 13.3 |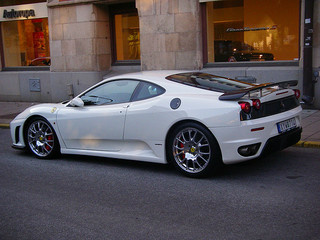 Ferrari F430                     Image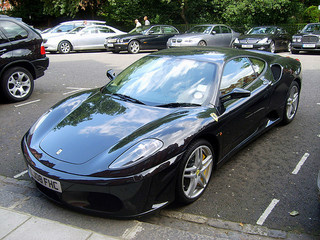 COMPETITION
     Typical competitors of the Ferrari F430 sports car included the following: Lamborghini Gallardo, Porsche 997 Turbo, and Ascari KZ-1. Ferrari performance: 
                                            Ferrari      Lamborghini     Porsche     Ascari
Technical Data                       430           Gallardo      997 Turbo     KZ-1
Production                        2004-2009   2003-2008        2006+       2005+
Engine, cc                              4308            4693              3603          4947
Cylinders, bhp                      8, 483         10, 490           6, 470        8, 497
Torque ft/lbs                          344              374                459           366
Top Speed mph                       196              191                194           198
0-60 mph, secs                       3.9               4.2                 3.7            4.0
0-100 mph, secs                     8.3               9.3                 8.4            9.6
Standing 1/4 Mile, secs        11.9            12.0              11.9           -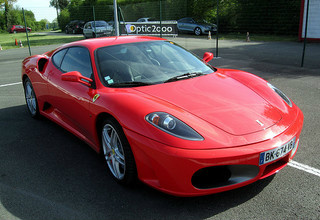 Ferrari F430                   Image
SPORTS CARS FOR SALE
     A Ferrari F430 sports car in good condition would fetch around $120,000, whilst an example in excellent condition could command around $150,000.
     Another classic car from Ferrari.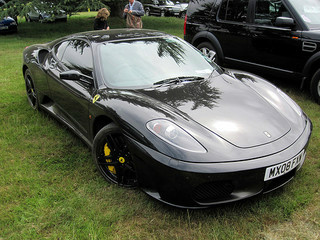 Ferrari F430                     Image
                                                see All My Reviews
Home

›
Ferrari Sports Car
› Ferrari F430 Sports Car
                                        The Ferrari Reviews Continue