The Ferrari 599XX Evolution Sports Car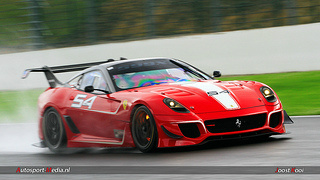 Ferrari 599XX Evolution             Image
                                            from Classic to Modern
THE CAR
     In 2011, Ferrari presented the 599XX sports car fitted with an Evolution pack which featured a completely redesigned exhaust system and rear wing, together with further upgraded electronics, and the use of new Pirelli tyres.
     A key feature of this sports racer was its rear wing which adjusted itself, as required, to produce the most optimum cornering characteristics.
     This was achieved by the positioning of two flaps which were able to move in such a way that they regulated the down force between the front and rear of the car.
     Compared with the 599XX, the Evo variant actually weighed in at 35 kg less.
    Once again, and not surprisingly, the 599XX Evo carried a price tag of $1.95 million which was, in fact, $450,000 more than that of the 599XX. 
THE ENGINE
     Designated the 599XX Evolution, it was powered by the 6 litre, V12 engine whose output had been increased further to 750 bhp at 9000 rpm, and 516 ft/lbs of torque at 6500 rpm.
     This represented a power increase of 30 bhp over that produced by the 599XX.                                                                                                
Technical Data                                 599XX EVO            599XX
Production                                              2011                 2009
Engine, cc                                               5999                 5999
Cylinders, bhp                                      12, 750             12, 720
Torque ft/lbs                                           516                   506
Top Speed mph                                        211                   211
0-60 mph, secs                                        2.9                    2.9
0-100 mph, secs                                      5.8                    5.7
Standing 1/4 Mile, secs                           10.8                  10.5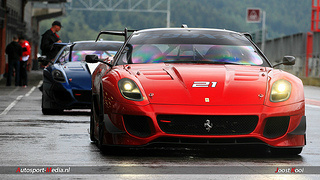 599XX Evolution              Image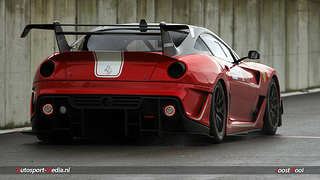 599XX Evolution               Image
                                                        Full Screen                                                                                                              Full Screen
COMPETITION
     The following shows how the Ferrari 599XX Evolution compared with some of its rivals: Gumpert Apollo, Lamborghini Murcielago LP670 SV, and McLaren MP4-12C. Ferrari performance:  
                                      Ferrari        Gumpert   Lamborghini    McLaren
Technical Data            599XX Evo      Apollo      Murcielago     MP4-12C
Production                       2011             2005+        2009+          2010
Engine, cc                        5999              4163           6491           3803
Cylinders, bhp              12, 750           8, 650        12, 670         8, 591
Torque ft/lbs                    516               597             487             444
Top Speed mph                 211               224             213             206
0-60 mph, secs                2.9                 3.0              3.1              2.9
0-100 mph, secs              5.8                 6.7              6.8              5.9
Standing 1/4 Mile, secs  10.8                10.7            11.3            10.7



                                                 see All My Reviews
Home

›
Ferrari Sports Car
› Ferrari 599XX Evolution Sports Car
                                           The Ferrari Reviews Continue