The Ferrari 599 SA Aperta Sports Car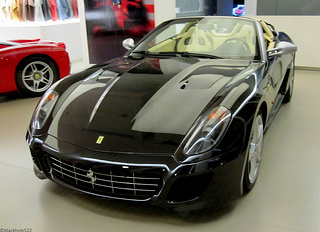 Ferrari 599 SA Aperta            Image
                                            from Classic to Modern
THE CAR
     The 599 SA Aperta sports car was introduced by Ferrari at the Paris Motor Show of 2010, in the form of a limited edition of only 80 units to honour Pininfarina's 80th anniversary. It was, in fact, the convertible equivalent of the 599.
     Like the 550 Maranello, it was a pure open top car, and was fitted with a folding soft top that required to be operated by hand, and came with a safety recommendation that the car should not be driven above 70 mph with the top up.
     The interior was clad in leather, and there was a spacious boot.
     Designed by Pininfarina, there were two rollover bars discreetly positioned behind the seats, and the chassis had been redesigned to increase its stiffness without increasing the overall weight.
     With a combination of the ride height being reduced, coupled with a lowered windscreen, this produced a stylish and sporty profile.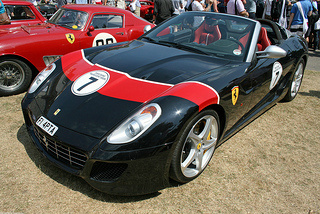 SA Aperta                    Image
                                                                                        Full Screen
THE ENGINE
     The front-engined, rear wheel drive two seater car was powered by the same high performance 6 litre, V12 engine as used in the 599 GTO, and developed 661 bhp, with a top speed of 202 mph, and a 0-62 mph time of 3.6 secs. 
Technical Data             599 Aperto          599 GTO          599 GTB
Production                        2010                  2010+         2006-2012
Engine, cc                         5999                   5999                5999
Cylinders, bhp                12, 661               12, 661            12, 612
Torque ft/lbs                     457                     460                  448
Top Speed mph                  202                     208                  205
0-60 mph, secs                 3.6                       3.3                   3.4
0-100 mph, secs              10.0                      9.8                   7.0
Standing 1/4 Mile, secs     11.3                    11.1                 11.2

SPORTS CARS FOR SALE
     On the second market, a Ferrari 599 SA Aperta, in excellent condition, sold at auction for almost $925,000.
                                               see All My Reviews
Home

›
Ferrari Sports Car
› Ferrari 599 SA Aperta Sports Car
                                         The Ferrari Reviews Continue