The Ferrari 575M Maranello Sports Car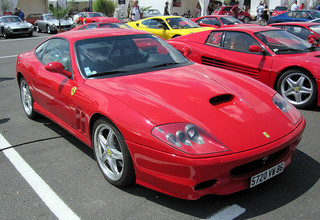 Ferrari 575M                    Image
                                          from Classic to Modern
THE CAR
The Ferrari 575M
     The 575M sports car. Ferrari phased out the 550 Maranello in 2001 and replaced it, a year later, by the 575M Maranello, a two door grand tourer, where the letter "M" referred to the fact that this model had been modified. The body styling by Pininfarina remained unchanged
     With the gearbox and differential positioned between the rear wheels, this produced an ideal 50:50 distribution of weight between the front and rear of the car.
     There were four wheel drilled and vented disc brakes, power assisted rack and pinion steering, and independent coil spring suspension all round, with gas-filled dampers and anti-roll bars.
     Interestingly, the suspension was controlled by the gearbox in order to minimise pitch during a gear change.
     It incorporated a system of independently controlled dampers positioned on the corners of the car.
     By choosing either a Sport or Comfort-mode, the optimum ride height for the prevailing conditions would be selected automatically.
     Improvements over the 550 Maranello sports car included:
A revised interior included a new dashboard and seats
More prominent headlights
Larger disc brakes with up-rated pads to improve cooling and avoid fade
New steering wheel and door trims
Modified air intakes to improve engine cooling
Further refinement of the aerodynamics
     Production was maintained until 2006, when it was replaced by the Ferrari 599 GTB sports car in the middle of that year.
     In 2005, Ferrari developed what they called the GTC pack, which offered enhanced handling characteristics.
     The optional package included an up-rated suspension system to enhance performance, a form of free flow exhaust system, 19 inch wheels, and new 16 inch disc brakes at the front and 14 inch at the rear using Formula One composite materials. 
The Ferrari 575M Superamerica
     Launched at the 2005 Los Angeles Motor Show, this was the convertible version of the 575M Maranello, and was available as a limited edition of 559 cars.
     Using the same engine, output was increased to 533 bhp, and the car was offered with either the six speed manual or F1-style gearbox, as well as the optional GTC Handling pack.
     However, the main feature was the flip-top roof, which could be rotated 180 degrees to lie flat on the boot when not required.
     The roof consisted of electro-chromic glass, which could vary the amount of light entering the cabin by way of five levels of tint, so that it could rapidly change from dark to light.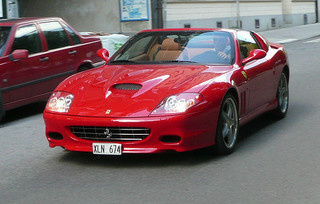 Ferrari 575M Superamerica        Image
THE ENGINE
The 575M Maronella sports car was powered by a 5.75 litre (as reflected in the name) aluminium V12 engine, with twin overhead camshafts, and four valves per cylinder.     
     It had a compression ratio of 11.0:1, and developed 515 bhp at 7250 rpm, and 434 ft/lbs of torque at 5250 rpm.
     This produced a top speed of 202 mph, and a 0-60 mph time of 4.1 secs. Fuel consumption was 12 mpg in the city. It used dry sump lubrication, and Bosch fuel injection.
     Apart from a manual six speed gearbox, there was also the option of a semi-automatic unit using an F1-style gear change.
     This was the first time that a Ferrari V12 had adopted the new electro-hydraulic gear selector which was, in fact, an updated version of the paddle-shift gear change that was used in the Ferrari 355 F1 Berlinetta of 1997.
Technical Data                      575M        Super America       575-GTC
Production                        2002-2006      2005-2006         2003-2004
Engine, cc                              5748               5748                    5997           Cylinders, bhp                     12, 515           12, 533               12, 605
Torque ft/lbs                          434                 434                     538
Top Speed mph                       202                 199                      208
0-60 secs                                4.1                  4.0                      3.50
0-100 secs                              9.4                  8.6                        -
Standing 1/4 Mile, secs          12.3                12.3                        -
                                                                                                                  Full Screen                                                                                                                             Full Screen
                                                                                      Full Screen
RACING
     In 2003, Ferrari developed a racing version of the 575M Maranello, which was designated the 575-GTC sports car, with the letter "C" meaning competition, and designed for the FIA GT Championship.
     By increasing the stroke, the engine's capacity was increased to 6 litres, which now developed 605 bhp, with a maximum speed of 208 mph, and a 0-60 mph time of 3.5 secs.
     However, compared with the 550-GTS built by Prodrive, it was completely outclassed and, consequently, was withdrawn at the end of the 2005 season.
THE COMPETITION
     The Ferrari 575M Maranellos competition was much the same as that of the 550 Maranello. Competition for the 575M Superamerica consisted of the Lamborghini Murcielago, and Mercedes SL65 AMG as with the 550. However, that for the 575-GTC consisted of the Lamborghini Murcielago, Mercedes SLR McLaren, and RUF RT12. 
                                          Mercedes          Lamborghini        RUF
Technical Data                SLR McLaren         Murcielago         RT12
Production                         2004-2010         2002-2007       2005+
Engine, cc                              5440                   6195             3801
Cylinders, bhp                      8, 626                12, 571          6, 650
Torque ft/lbs                          575                    479              641
Top Speed mph                      207                      205               219
0-60 mph, secs                      3.7                       3.7                3.4
0-100 mph, secs                    7.7                       8.9                7.6
Standing 1/4 Mile, secs         11.6                     12.0                 -                                         

SPORTS CARS FOR SALE
     On the second hand market, a Ferrari F575M sports in good condition recently sold for $85,000, whilst a similar 575M Superamerica sold at auction for $225,000, with another, this time in excellent condition, reaching $350,000.
     This was another of the classic cars by Ferrari.
                                               see All My Reviews
Home

›
Ferrari Sports Car
› Ferrari 575M Sports Car
                                        The Ferrari Reviews Continue