The Ferrari 360 Challenge Stradale Sports Car
                                         Ferrari 360 Challenge Stradale      Image
                                           from Classic to Modern
THE CAR
     The Challenge Stradale sports car was introduced by Ferrari in 1999, alongside the launch of the 360 Modena and Spider.
     The Stradale was the highest performing, road-going variant in the 360 Series.
     It was the successor to the 355 Challenge sports car whose development reached a peak in 1998 with the Evolution variant, which was an almost complete factory assembled race car.
     The 360 Challenge was based on the 360 Modena, and was a limited edition racer that was designed by Ferrari to spend 20% of its time as a track day racer, and the remaining 80 % as a road-going sports car.
     The Challenge Stradale was as much as 110 kg lighter than the basic 360 Modena as a result of a number of weight-saving measures, which included:
Removing the radio
Substituting the window glass with Plexiglass
Using Alcantara fabric in place of the leather interior
Reducing the weight of the bumpers and skirts by using special moldings
Removing the interior sound deadening material
Using carbon fibre mirrors
Adding the optional carbon fibre seats from the Modena
     These changes produced a weight saving of 94 kg.
     Fitted with 19 inch road wheels, a further 16 kg was saved by using Brembo brakes, made from a carbon composite material, which both prevented brake fade and improved handling due to the reduced weight,     
     The engine, body panels, and chassis were all constructed from aluminium.
     When using the standard six speed F1-style paddle shift gear change system, the driver could throw a switch and select either Sport or Race-mode.
     In the case of the latter, when the traction control was switched off, there was a feature that allowed the driver to engage a high performance start, so long as the prevailing driving conditions allowed the car to develop sufficient grip.
     The chassis of the Stradale had been designed so that the centre of gravity was 15 mm lower than the standard car.
     All non-essential interior fitments, such as carpeting and mats had been removed, and the door panels were constructed from carbon fibre.
     It used lightweight aluminium roll-over bars behind the seats that were designed specifically for the car, and was fitted with stiffer springs and adjustable computer controlled damping.
     With a modified carbon fibre under-tray, down force was further increased the harder the car was driven.                                                                
THE ENGINE
     The 360 Challenge was powered by the same mid-engined, 3.6 litre, V8 unit, with five valves per cylinder, as the other 360 variants, and developed 425 bhp at 8500 rpm, and 275 ft/lbs of torque at 4750 rpm.
     This produced a top speed of 186 mph, and a 0-62 mph time of 4.0 secs.
     Output was increased by using high compression combustion chambers with polished ports, and raising the compression slightly to 11.2:1.
     The total weight of the engine and gearbox was reduced by 11 kg by using a shorter, lightweight, stainless steel sports rear exhaust box, and modified outlet pipes.
Technical Data
360 Coupe

360 Challenge
Stradale


Production
1999-2005
1999-2004
Engine, cc
3586
3586
Cylinders, bhp
8, 395
8, 425
Torque ft/lbs
275
275
Top Speed mph
189
186
0-62 mph, secs
4.3
4.0
0-100 mph, secs
10.3
9.7
Standing 1/4 Mile, secs
13.0
12.2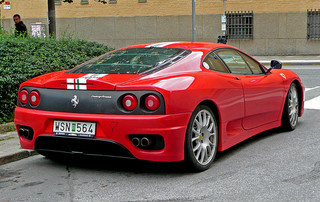 Ferrari 360 Challenge Stradale      Image
                                         Ferrari 360 Challenge Stradale     Image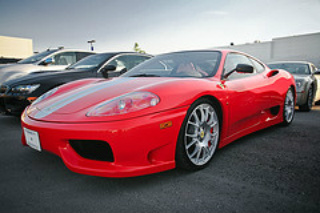 Full Screen                                                                                                                                   Full Screen
COMPETITION
     Typical competition for the 360 Challenge Stradale included the following: Lamborghini Murcielago, and Dodge Viper SRT-10. Ferrari performance:
Technical Data
360 Challenge
Stradale
Lamborghini
Murcielago
Dodge
Viper
Production
1999-2004
2002-2007
2002-2006
Engine, cc
3586
6193
9291
Cylinders, bhp
8, 425
12, 570
10, 500
Torque ft/lbs
275
475
520
Top Speed mph
186
204
188
0-60 mph, secs
3.9
3.7
4.0
0-100 mph, secs
9.7
8.9
9.2
Standing 1/4 Mile, secs
12.2
11.9
12.4
SPORTS CARS FOR SALE
     With an original price of $195,000, on the second hand market, a Ferrari 360 Challenge Stradale that was in good condition would fetch around $160,000, whilst an example in showroom condition would command in the region of $320,000.
     Another one of these classic cars from Ferrari.
                                             see All My Reviews
Home

›
Ferrari Sports Car
› Ferrari 360 Challenge Stradale Sports Car
                                         The Ferrari Reviews Continue