The Triumph Spitfire Mark 2 Sports Car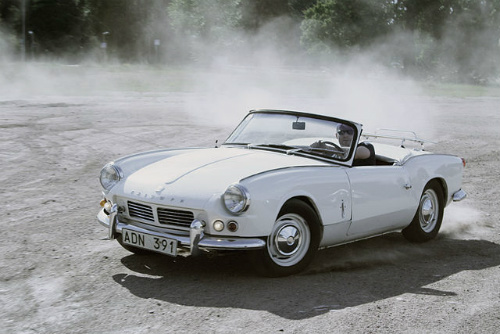 1965 Triumph Spitfire 4 Mark 2                             Image
                                          from Classic to Modern
     Following production of the Mark 1 sports car from 1962-64, the Spitfire Mark 2, priced at £550, was introduced in late 1964 and was, apart from a modified grille, alternative badges, redesigned seats, and replacing rubber mats with carpeting, very similar to its predecessor.
     The main feature centred on the 1147 cc, straight-4, OHV engine which had now been tuned by the use of a modified camshaft, water cooling the inlet manifold, and upgrading the exhaust manifold.
     As a result, output was now increased from 63 to 67 bhp at 6000 rpm, with an unchanged 77 ft/lbs of torque at 3750 rpm.
     Fitted with a four speed manual gearbox with optional overdrive on the top two gears, it now produced a top speed of 96 mph, with 0-60 mph in 15.0 secs, and an overall fuel consumption of 38 mpg.
     Apart from the addition of a diaphragm clutch, body and components remained unchanged.
     When production ended in January 1967, a total of 37,409 of the Mark 2 sports car had been built.     
                                                 see All My Reviews
                                               Triumph Spitfire Mark 2