The GTA Spano Sports Car Racer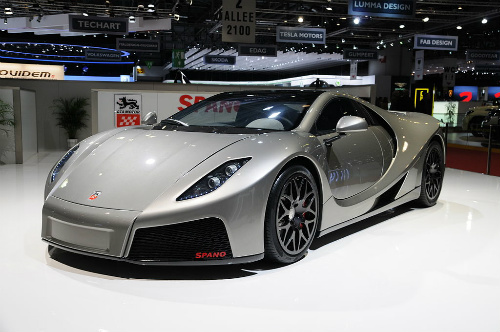 GTA Spano Racer
                                           from Classic to Modern
     This Spanish, limited edition sports car racer, with only 99 built, and a price tag of nearly $1 million, was launched in 2012 at the Geneva Motor Show.
     A unique feature was that the lightweight chassis consisted of a combination of Carbon fibre, Kevlar, and Titanium, linked to a carbon fibre body, and with a curb weight of 1350 kg.
     It was powered by a mid-engine, supercharged version of the Dodge Viper's 8.3 litre, V10 unit that developed an impressive 780 bhp at 6250 rpm (840 bhp when run on alcohol), and 680 ft/lbs of torque.
     Fitted with a seven speed automatic paddle shift sequential gearbox, it produced a top speed of 217 mph, with 0-60 mph in 2.9 secs.
     It used AP Racing's 380mm carbon ceramic disc brakes, with six piston callipers, and linked to ABS, an adjustable suspension, and featured a panoramic glass roof.
     A later version of this sports car was fitted with a 900 bhp unit, with 740 ft/lbs of torque.  
                                                  see All My Reviews

                                                            .
                                                    GTA Spano Racer