The Frazer Nash Targa Florio Sports Car
                                         1954 Frazer Nash Targa Florio                          Image
                                            from Classic to Modern
     Throughout the late 1930's, Frazer Nash sports cars were, in fact, BMW's with their own badge added.
     Following WW2, it produced its own racers powered primarily by a Bristol engine.
     Introduced in 1952, only 15 Targa Florio's were built by 1954, and it replaced the model entered in the Mille Miglia.
     The two door, two seater convertible used an alloy body on a steel chassis with a curb weight of 900 kg, and acquired its name following its 1951 win in that years Targa Florio race.
     This Turismo variant was powered by a Bristol 1971 cc, straight-6 engine that developed 105 bhp at 5000 rpm, and 112 ft/lbs of torque at 4750 rpm.
     Fitted with a four speed manual gearbox, it produced a top speed of 108 mph, with 0-60 mph in 10.0 secs, and a standing 1/4 mile in 17.8 secs.
     The Gran Sport variant's uprated engine, with 3 Solex carbs, developed 140 bhp, and 135 ft/lbs of torque giving this fixed head coupe, which had a curb weight of 787 kg, a top speed of 125 mph.
     The Targa Florio sports car racer was entered in the prestigious 1953 Sebring 12 Hour race under the famous Briggs Cunningham US works team.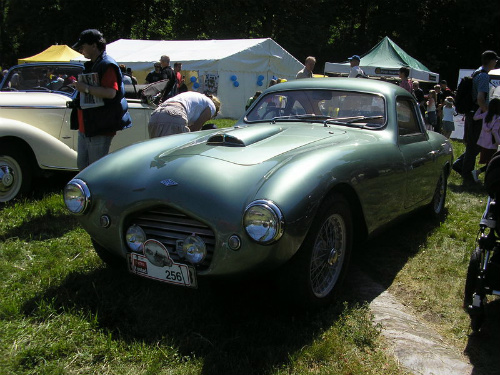 1955 Frazer Nash Le Mans Coupe                         Image
                                                 1958 Frazer Nash                                       Image
                                                    see All My Reviews
                                                            .
                                             Frazer Nash Targa Florio