The Ford RS200 Evolution Sports Car
                                         1986 Ford RS200 Evolution                              Image
                                         from Classic to Modern         

     The 1986 four wheel drive RS2000 sports car was designed exclusively as the company's answer to the Group B Class for rallying and the track.
     However, in order to satisfy FIA homologation rules, at least 200 standard road legal RS2000's had to be built, which included just 24 of the Evolution variants.
     The Evo used a composite fibreglass body, designed by Karman Ghia, on a lightweight aluminium chassis which gave it a curb weight of 1180 kg.
     It used AP Racing's 300 mm vented disc brakes all round, uprated suspension and brakes, and some external components taken from other Ford cars.
     It was powered by a specially tuned Cosworth, mid-engined, 2.1 litre, straight-4, 16 valve, DOHC unit that developed 580 bhp at 8000 revs with 1.6 bar of boost, and 401 ft/lbs of torque at 5500 revs.
     Fitted with a Garrett supercharger, a 5 speed Endean manual gearbox with a twin plate clutch, it produced a top speed of 155 mph, with 0-60 mph in 3.1 secs (which made it, for a number of years, the world's fastest accelerating sports car).
     However, since the authorities deemed the Evolution's performance as being excessive, the Group B Class was discontinued in 1986.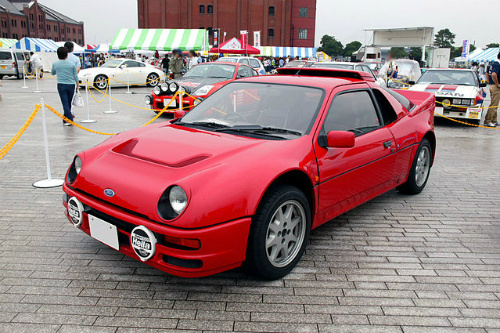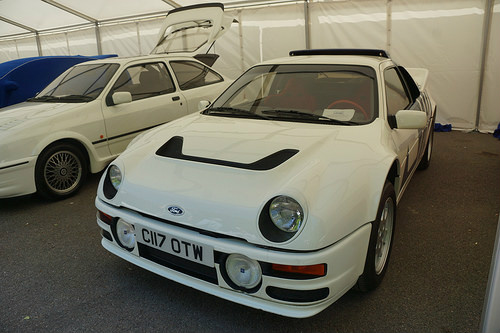 1984 Ford RS200                                                              Its distinctive styling was seen at the Goodwood Festival of Speed
                                                  see All My Reviews
                                                             .
                                                  Ford RS200 Evolution