The Ferrari 360 GTC Sports Car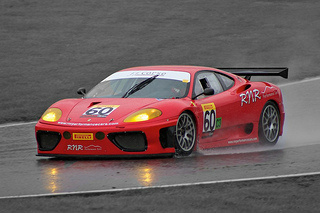 Ferrari 360 GTC                Image
                                            from Classic to Modern
THE CAR
     The 360 GT sports car received limited production, which ended in 2003, when it was succeeded by the Ferrari 360 GTC, where "C" referred to Competition.
     The 360 GTC received its press release in late 2003 at the Bologna Motor Show, and was produced up to 2004.
     With collaboration from Michelotto, it was fully supported by Ferrari, and was developed with the aim of being a major force when entered in the  GT Championship.
     The 360 GT, although it performed well on the track, struggled when competing with the likes of the Porsche 996 GT3, and it was for this reason that the GTC was introduced.
     its weight had been reduced to 1000 kg from the 1100 kg of the 360 GT, and Ferrari benefited from the experience gained when race testing the GT.
     The GTC was homologated (entitlement to race) by the FIA on the strength of the number of units produced of the 360 Challenge Stradale sports car from which it derived  a number of components, such as front bumper, side skirts, engine cover, and rear section.
     Based on the race experience with the 360 GT, it incorporated a number of modifications, such as:
A sequential six speed gearbox, which was found to be more effective and quicker under race conditions than the F1-style paddle shift system used in the 360 GT
The latest version of the Magneti Marelli electronic control unit
Further refinements to the car's aerodynamics, and especially the rear wing, which received further development work to produce a version that generated a marked improvement in the level of down force at the rear
     With favourable demand from Ferrari customers for the 360 GT, the company decided to offer the new GTC for sale to the new and existing customer base.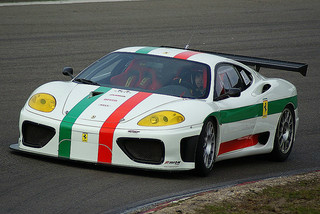 Ferrari 360 GTC                  Image
THE ENGINE
     Although the engine was still subject to the FIA requirement for racing in the GT class of fitting two 30.8 mm air restrictors, output was still increased from 430 bhp at 8500 rpm with the 360 GT to 472 bhp at 8750 rpm with the GTC.
     With this additional output, the top speed rose to an incredible 200 mph plus, with a 0-62 mph time of 4.2 secs.
     A benefit from the increased performance of the 3.6 llitre, V8 engine was that fuel consumption was lowered.
     An interesting fact was that, when the air restrictors were removed, output was dramatically increased to 550 bhp at 8750 rpm.
     This fact was born out when, a few years later, a 360 GTC owned by a privateer, that was fully tuned and in race trim, but without the incumbency of the air restrictors, was entered in premier endurance races, including Sebring and Le Mans.
                                                                                 Modena      Challenge
Technical Data                360 GTC         360 GT      Challenge      Stradale
Production                    2003-2004    2002-2003       1999+     1999-2004
Engine, cc                           3586            3586             3586             3586
Cylinders, bhp                   8, 472           8, 430          8, 410           8, 425
Torque ft/lbs                       324               279              286               275
Top Speed mph                   200+             180              185               186
0-62 mph, secs                   4.2                3.6               3.9                4.0
0-100 mph, secs                   -                  9.0                -                  9.7
Standing 1/4 Mile, secs       -                12.2              -                12.2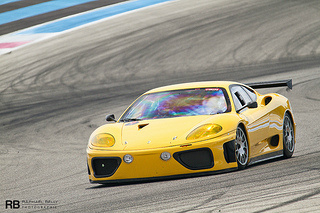 Ferrari 360 GTC               Image
                                                                                    Full Screen
COMPETITION
     Competitors of the Ferrari 360 GTC sports car included the following: Porsche 996 GT3 RS, and Lamborghini Murcielago. Ferrari performance:
Technical Data
360 GTC

Porsche
996 GT3 RS
Lamborghini
Murcielago
Production
2003-2004
2004
2002-2007
Engine, cc
3586
3600
6193
Cylinders, bhp
8, 472
6, 376
12, 570
Torque ft/lbs
324
285
475
Top Speed mph
200+
190
204
0-62 mph, secs
4.2
4.3
3.7
0-100 mph, secs
-
8.8
8.9
Standing 1/4 Mile, secs
-
12.3
11.9
SPORTS CARS FOR SALE
     An excellent example of a Ferrari 360 GTC was sold at auction for $154,000.
     One of the many classic cars from Ferrari.
                                              see All My Reviews
Home

›
Ferrari Sports Car
› Ferrari 360 GTC Sports Car
                                            Ferrari Reviews Continue