The Chevron GT3 Sports Car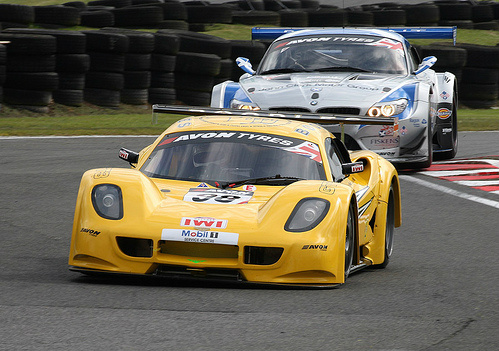 Chevron GT3                                        Image
                                         from Classic to Modern
     In 2010, Chevron introduced the first sports car racer since the 1960's which was based on the Chevron B8 GT.
     The new car was designated the Chevron GR8, meaning Gran Rapido, and was powered by a Cosworth, 2 litre, inline-4 engine that developed 260 bhp and, linked to a Hewland 5 speed sequential gearbox, gave it a top speed of 150 mph.
     Using AP Racing disc brakes, it was designed to compete in the One Make Series as well as the British GT Championship.
     Production of the GR8 ended in 2011.
     However, in order to compete in international championships, the Chevron GT3 sports car racer was introduced in 2012 and was, in fact, a modified version of the GR8.
     It was powered by a specially developed, mid-engined, aluminium, 3.5 litre, 24 valve, DOHC, straight-six unit that developed 420 bhp. Linked to a Hewland six speed paddle shift sequential gearbox, it produced a top speed of 180 mph.
     It had a wider aluminium body on a tubular steel space frame chassis and incorporated larger vented disc brakes all round, a large splitter and rear wing, and bigger wheels.
     As soon as a new production road car has been produced in sufficient quantities, the Chevron GT3 will become eligible (homoligated) to race in the GT3 Class.  
                                                   Chevron GT3
                                                         .                                                             

                                                   see All My Reviews