The Lotus Europa Series 2 Sports Car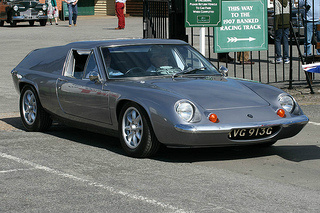 Lotus Europa Series 2
                                            from Classic to Modern

The Europa Type 47
     The Type 47 sports car was a racing version of the Europa for use with Team Lotus, but which could still be sold to private competitors.
     It was launched at the same time as the Series 1, and was based on a modified Europa.
     The body was thinner than the standard car, and had wider wheel arches, plus cooling vents in the engine bay.
     The rear suspension came from the Lotus 23, a mid-engined sports racer, and the Lotus 22, a Formula Junior racing car, as did the five speed Hewland FT 200 gearbox.
     It was fitted with a 1594 cc, Lotus-Ford Cosworth, Twin Cam engine, developing 165 bhp, together with larger Girling brakes.
     Built between 1966 and 1970, it is estimated that between 55 and 68 units of the Europa 47GT were built.
     The Type 47 Europa, which was also known as the Snorkel Car, featured uprated suspension, four wheel disc brakes, and was lighter in weight than the standard production model.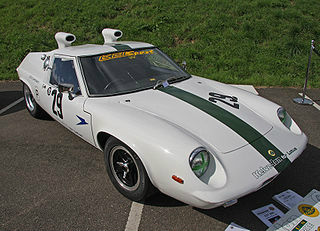 Europa Type 47, also known as the Snorkel Car
                                                                                                   Full Screen
The Europa Type 62
     The Type 62, a prototype Europa race car, was a further development of the Type 47.  
     Introduced in 1969, it was powered by the new 2 litre, LV240, twin overhead cam, Lotus 907 engine, developing 240 bhp, which was to be used in the forthcoming Lotus Elite Mark 2, and Lotus Eclat, Esprit, and Excel sports cars. 
     It featured a spaceframe chassis, with Formula 1 suspension.
     Unfortunately, owing to the problems with the Vauxhall engine block, its competitive success was limited. 
     However, its greatest success was finishing third in the Tourist Trophy at Oulton Park in 1969.
     Only two cars were ever built.  
Technical Data             S2 T54          S2 T65     Hemi 807     Black Shadow
Production                     1969             1970          1970               1970
Engine, cc                      1470             1565          1565               1565
Cylinders, bhp                4, 81            4, 87         4, 103             4, 135
Top Speed mph               120              119            124                 150
0-60 mph, secs               9.0               9.9             7.4                  5.8
Torque ft/lbs                    80                75             105                 118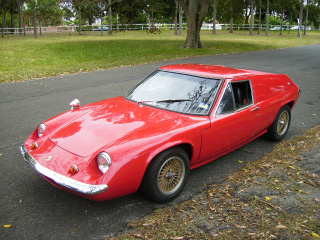 1970 Europa Series 2
                                                       Full Screen                                                                                                                                 Full Screen
The Europa Series 2 Type 54
     The Series 2, also known as the Type 54, and introduced in April 1968, featured a fibreglass body that was bolted to the frame, rather than being glued as in the Series 1.
     It was fitted with extras not found in the Series 1, such as electric windows, seats that were adjustable, a new interior, and a dashboard with a polished wooden facia.
     It used the same modified 1470 cc, Renault engine as the Type 46, and was distributed to all markets with the exception of the US.
     Around 200 Type 54's were modified to be made suitable for export to the US, whilst using the larger Type 65 engine.
     To satisfy US regulations, the front suspension was altered to increase the height of the front of the car so that the headlights were raised, combined with higher front bumpers.
     The Type 65 engine consisted of a 1565 cc, emission controlled, in line 4-cylinder, Renault 16 TS unit, with a 10:1 compression ratio, and linked to a four speed gearbox.
     It developed 87 bhp, with a 0-60 mph time of 9.9 secs.
     Exports to the US began in 1969, and by 1970, a total of 3,615 Series 2's were built.
     The Lotus importer in Switzerland developed and marketed two modified versions of the Europa based on the Renault 16TS, 1565 cc, Type 807 engine. 
     Accordingly, the Europa Hemi 807 had a four speed gearbox, a twin choke Webber carburettor, and a top speed of 124 mph.
     On the other hand, the Kugulfisher fuel injected Europa Black Shadow had a five speed gearbox, and a top speed of 150 mph.
      Common to both cars was a wider track, alloy wheels, the front indicators were white, and extractor fans were positioned behind the rear seat.    
     In October 1971, the Series 2 was succeeded by the Europa Series 3 Type 74 sports car, which featured the 1558 cc, Lotus-Ford Cosworth Twin Cam engine.
SPORTS CARS FOR SALE
     A 1970 Lotus Europa Series 2 Type 65 in good condition would fetch in the region of £18,000/$30,000.
                This concludes my Lotus Europa Series 2 Sports Car Review
                                              see All My Reviews
Home

›
Lotus Sports Car
› Lotus Europa Series 2 Sports Car
                              Got an interesting Sports Car story  to tell?